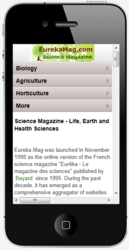 Mobile Sciences @ m.EurekaMag.com
Mannheim, Germany (PRWEB) December 27, 2011
The Sciences Magazine EurekaMag.com publishes articles in all areas of the natural sciences including biology, agriculture, horticulture, forestry, geography, environment and health. Drawing from this pool of scientific disciplines, it publishes articles, reviews and insights on biological topics including those which have recently attained attention. Most of these reviews are included in the Sciences Keyword Category, the Sciences Keyphrase Category and in the Sciences Reviews Category of the online science magazine. All content is now available on a user-friendly and fast Mobile EurekaMag.com Website.
The EurekaMag.com review of Geonet covers a project to build and operate a modern geological hazard monitoring system. Specifically, the goals of GeoNet are to facilitate the access, analysis, and visualization of geospatial data for use by scientists, policymakers, educators, and the general public. The types of geospatial data provided through GeoNet include satellite imagery, gravity, heat flow, digital elevation models, remote sensing, seismicity, active faults, and basic geographic data. It comprises of a network of geophysical instruments, automated software applications and skilled staff to detect, analyze and respond to earthquakes, volcanic activity, large landslides, tsunami and the slow deformation that precedes large earthquakes. Geonet is the densest GPS observation network in the world with 1,200 GPS-based control stations and some other stations. GEONET has contributed its continuous data to various fields of earth science. In seismotectonics study, it provided the features of co-seismic crustal deformation as well as the steady state crustal deformations by plate motion. Five interplate slow slip events were also found by GEONET and has been playing important role to the recent plate coupling studies. In volcanological study, it provided the sequence of magma activity utilized for the estimation of eruption. GEONET also provided a new measure to detect ionospheric and meteorological signals and have been contributing to atmospheric science.
EurekaMag.com presents a review on Heifer which are which are young female cows under three years of age and before they have had a calf of their own. The article features an experiment where different doses of PGF2 alpha were luteolytic in 10 of 12 heifers before and after hysterectomy. While 5 mg PGF2 alpha was not luteolytic in intact heifers, it caused luteolysis in 3 of 4 heifers after hysterectomy. The experimental results indicate that with beginning within 18 h of treatment, elevated oestrogen secretion may participate in the luteolysis begun by exogenous PGF2 alpha. Other experimentation with Heifer serum resulted in greater head-to-head agglutination than did bull serum for all incubation durations regardless of the time of serum addition. The head-to-head agglutination observed with heifer serum involved the acrosomal region predominantly while bull serum involved the acrosomal and post-nuclear cap regions. Heifer serum also caused spermatozoa to agglutinate in much larger groups than bull serum. There was no consistent difference in intact acrosomes between bull and heifer serum. Neither the time of serum addition nor the type of serum influenced motility. When heifer serum was added to spermatozoa, the correlation between the percentages of head-to-head agglutination and intact acrosomes was 82 percent. Head-to-head agglutination was not related to intact acrosomes when bull serum was added.
The EurekaMag.com review of Offals covers meat which includes most internal organs other than muscle and bone. These variety meats or organ meats thus refer to the internal organs and entrails of a butchered animal. The article covers several examples of microbiological examination for the presence of bacteria including Escherichia coli. Another topic includes examination of British wartime offals. Proportions of condemned carcasses and offals of cattle, pig and sheep slaughterings were reported for various disease conditions. Trends and seasonal patterns were investigated, using linear logistic models to represent the condemned proportions. The proportions of pig carcasses and offals condemned in a quarter were inversely related to the number of pigs slaughtered in the period. Proportions of condemnations for certain diseases were inter-correlated. Another part of the review covers the theoretical possibility that rinderpest might be introduced through refrigerated meat or offals of animals slaughtered while affected with the disease. Outbreaks in new countries have, however, always been due to the introduction of living affected animals and in no case to infected meat or offals. The importation of meat from countries in which rinderpest exists can, consequently, be undertaken without risk provided certain precautions are observed.
The Science Magazine EurekaMag.com was launched in November 1998 as the online version of the French science magazine "Eurêka - Le magazine des sciences" published since 1995. During the past decade, it has emerged as a comprehensive aggregator of information on biology, on the applied life sciences agriculture, horticulture and forestry, on the earth sciences, on the environmental sciences, and on the health sciences.
The Science Magazine has recently been accredited by the Chinese Ministry of Industry and Information Technology with the Internet Content Provider (ICP) Number 10204677. The site delivers its content through a number of RSS feeds including a "Most Shared Content" RSS Feed and an @EurekaMag Twitter account. The @EurekaMag Twitter account currently features 46,387 tweets and 881 followers. The site also provides an EurekaMag.com portal for mobile viewing at m.eurekamag.com. The Global Alexa Traffic Rank of Eurekamag.com is currently 777,346. The online traffic can now also be watched in real time using a EurekaMag.com "Life Traffic Feed" and a "Real-Time View". The site accepts advertisements through the Google AdWords system.
# # #