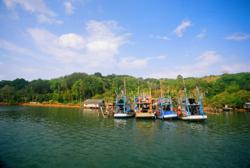 People often don't realize what rich ecosystems we have here in the dry tropical forests of Southeast Asia.
Chanthaburi, Thailand (PRWEB) December 27, 2011
Chanthaburi province, which is mainly famous for its tropical fruit and gemstone markets, is attracting increasing interest from eco-savvy travelers, such as the Wianecki family, who recently spent a few days in Chanthaburi, after trekking in the rainforest national park of Khao Sok in the South of Thailand. They stayed at Faasai Resort and Spa, which has won Best Small Hotel in Thailand in the TAT (UK) Green Awards, two out of the past three times.
They were surprised by the rich bird-life of the region, spotting many different varieties of birds during their two day visit, including kingfishers, drongos, bee-eaters, fantails, lapwings, sunbirds, kites, egrets and bulbuls.
"People often don't realize what rich ecosystems we have here in the dry tropical forests of Southeast Asia," said the owner of Faasai Resort and Spa, Bronwen Evans. "They often see and hear more birdlife here than in other parts of the country which are more famous for trekking."
The forests and forest remnants of Chanthaburi are part of the Cardamom ranges complex on the border of Thailand and Cambodia and national development plans in Thailand have earmarked Chanthaburi as a special green province. This is expected to attract visitors interested in adventure tourism, eco-tourism, agri-tourism and marine eco-tourism.
Already the province has impressive credentials. The Kung Kraben Bay Royal Development Study Centre is a marine sanctuary under the patronage of His Majesty the King, which is fringed with mangroves and sometimes visited by the endangered sea mammal, the dugongs. It is regarded as a model of restoring a degraded marine environment and integrating marine conservation with support of local fisherman.
To help promote the province's green credentials, in July 2011, the Governor of Chanthaburi held the inaugural green awards to recognize local operators committed to eco-friendly practices.
Faasai Resort and Spa won special recognition for its herb gardens in the resort and at its nearby nature sanctuary. The owners of the resort have planted more than 2500 trees including timber trees such as rosewood and ebony, aquilaria used for the production of krissana oil and Thai healing herbs such as neem, lemongrass, tamarind and zedoary. The trees and plants provide unique ingredients, which are used in the resort's restaurant and spa. Faasai is also developing a spice garden, with trees which are indigenous to Chanthaburi and were part of the ancient spice trade such as cloves, camphor and cinnamon.
The resort offers nature based tourism including exploration of the unique coastal and forest ecosystem of Kung Wiman, a small fishing village surrounded by orchards, shrimp farms and rubber plantations. Visitors to Kung Kraben can take a boardwalk through the mangroves, go kayaking amongst the mangrove trees or in the bay (between October and March) and visit an aquarium which has a diversity of marine life including seahorses, stingrays, sharks, clown and puffer fish as well as a marine breeding center in the bay with leopard sharks, giant groper and turtles.
Awards won by Faasai Resort and Spa:

Best Small Hotel Thailand Green Awards 2011
Green award and special award for cultivation and use of herbs and spices from the Governor of Chanthaburi 2011
Outstanding service to the environment and nature in the Eastern region – Thailand Boutique Awards 2010
Best Small Hotel Thailand Green Awards 2009.
Runner-up in the budget category in the 2008 Wild Asia Responsible Tourism Awards.
# # #