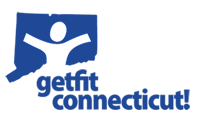 Programs like GetFitConnecticut that can tap into key psychological motivators such as achievement, reward, status and competition hold much promise as a resource to help groups of individuals make and sustain behavior change
East Hartford, Connecticut (PRWEB) December 26, 2011
The Nutmeg State Games, which for twenty-three years has been responsible for managing Connecticut's largest premier amateur athletic competition, announced the launch of its latest state-wide initiative to promote fitness and a healthy lifetsyle for all age groups. Called "GetFitConnecticut", the initiative combines the power of modern social networking tools like Facebook® and Twitter® with friendly competition among individuals who will form small teams to compete on a variety of wellness metrics. GetFitConnecticut provides a team structure that capitalizes on the support that already exists among family members, friends and co-workers. The event will span 100 days from start to finish, and prizes will be awarded to individuals and teams achieving various fitness goals. The GetFitConnecticut competition will start on January 14, 2012 with New Year Resolution pledges being accepted now online at getfitconnecticut.com.
The Associate Executive Director of the Nutmeg State Games, Patrick Fisher, explained the event's intent: "The purpose of GetFitConnecticut is to engage people in understanding the many dimensions to wellness, and how they can achieve positive results across a wider range of metrics than just what they see on a weight scale. We want to show people positive correlations on a bigger range of indicators of health, including blood pressure, blood sugar, total cholesterol, among other data points that are easily accessible via routine blood tests and self-measurement."
In 2010, Connecticut had an obesity rate of 22.5% according to Centers for Disease Control and Prevention (CDC). The CDC also estimated annual medical costs associated to obesity at $147 Billion in the United States. According to a recently released report by the Centers for Medicare & Medicaid Services, Connecticut spent $8,654 per resident on health care costs, nearly 27 percent more than the national average of $6,815. Connecticut spends more on health care per capita than 48 US states; only Massachusetts and Alaska spend more. Research shows that moderate physical activity can substantially reduce the risk of developing or dying from heart disease, diabetes, colon cancer, and high blood pressure, and can also dramatically reduce health care expenditure for these largely preventable chronic diseases.
Dr. Jacob Sattelmair, a principal at wellfra.me and a Harvard trained expert on public health and behavioral science who has provided scientific guidance to the event commented: "The prevalence of obesity and other cardiometabolic risk factors in the US is alarmingly high. Many individuals are unaware of their disease risks, and still others may lack the resources or motivation to sustain the lifestyle behavior changes necessary to lower their risk and improve their health. There is no silver bullet to this epidemic, however there are multiple promising avenues through which to affect change. Programs like GetFitConnecticut that can tap into key psychological motivators such as achievement, reward, status and competition hold much promise as a resource to help groups of individuals make and sustain behavior change."
The GetFitConnecticut competition is open to individuals of all ages, including teenagers under the age of 18 with parental consent. The event will track individual and team progress through the collection of data, including the type, duration and frequency of physical activity engaged in, as well as other measures of wellness including weight data, blood sugar, cholesterol, and blood pressure.
The event will initially run as a pilot with a limited number of available "bibs" - the number tags that runners use for competitive events. The prizes will include crowd-pleasing favorites like Apple® iPad devices and iPods. The cost to register for the 100 day event is $29. Registration opens today and will end on January 14, 2012. Visit
https://www.getfitconnecticut.com to get started.
MAKE YOUR NEW YEAR'S RESOLUTION TO GET FIT AT GETFITCONNECTICUT.COM
1. Pledge your New Year's Resolution to get fit at GetFitConnecticut.com
2. Choose a Team Name.
3. Invite your friends and family to join your team
Entry Fee is $29.00 per participant and includes the following benefits:

Personalized tracking & graphing of your wellness progress
Opportunity to compete for exciting prizes, including iPods and iPads
Exclusive offers from local fitness, nutrition, and activity partners
Weekly / Daily nutritional tips
Weekly / Daily Fitness Program routines
The Nutmeg State Games is a division of the Connecticut Sports Management Group, Inc. (CSMG) and are recognized by the National Congress of State Games and United States Olympic Committee as the official State Games of Connecticut. The Nutmeg State Games is a 501(c)(3) non-profit, tax-exempt corporation governed by a twenty-six member board.
# # #