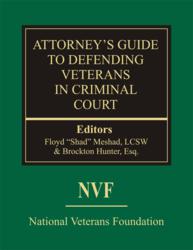 "When...talking...PTSD, it only makes sense to look at treatment over incarcerations. This is not the kind of disease that is just going to go away. Without proper treatment and care, this stuff can linger for decades." Brockton Hunter, Esq.
Orlando, FL (PRWEB) December 28, 2011
DC Press LLC, an independent, veteran-owned publishing company located near Orlando, FL, will be releasing a major publication in cooperation with the not-for-profit National Veterans Foundation (based in Los Angles). Designed as a tool for attorneys who defend veterans with Post Traumatic Stress Disorder, Traumatic Brain Injury and other combat related issues within the criminal courts system, the book is planned for official release at the end of the first quarter of 2012.
Shad Meshad, founder and president of the National Veterans Foundation, who is serving as one of the lead editors of the book entitled, The Attorney's Guide to Defending Veterans in Criminal Court, has released the names of the expert contributors to this first, one-of-a-kind publication. Among the legal, medical and mental health professionals who have prepared critical material include respected names such as (and these are merely examples):

Brigadier General (U.S. Army, Ret.) Stephen Xenakis, M.D., considered by many as "the" best medical mind the U.S. military had on the subject of PTSD;
The Honorable Robert T. Russell, Buffalo, N.Y. Veterans Court, writes an "Overview of Veterans Courts"
Markku Sario, Esq., the public defender in the history-making Jessie Bratcher case -- one of the first Iraq veterans in the U.S. -- and the first in Oregon -- to successfully claim post-traumatic stress disorder as a defense for murder;
Major Evan R. Seamone, U.S. Army Judge Advocate General Corps, who writes on "Preparing Attorneys to Defend Veterans Against Themselves in Criminal Cases;"
Dr. Jonathan Shay, M.D., Ph.D., and authority on TBI, writes of "Combat Trauma and Criminal Conduct;"
Trial attorney, Linda McDermott, writes of the "Special Considerations in Capitol Cases; and
"Applying a Proven Model to Veterans" is an important chapter written by the Honorable Justice Evelyn Lundberg Stratton, Ohio Supreme Court.
These experts join numerous other contributors to produce a book that will contain nearly 1,000 pages of practical hands-on tools that attorneys of all experience levels, from both sides of cases, including judges and expert witnesses, that can be put to use immediately.
Over 2 million men and women have served in Afghanistan and Iraq since 2002. And approximately one-third of military personnel have served more than one tour in Afghanistan and Iraq. Nearly 20,000 members of the U.S. Army have been deployed to Afghanistan and Iraq some five or more times. The military has kept 70,000 service personnel beyond their scheduled discharge date. The U.S. Department of Veterans Affairs predicts that between 30-40 percent of Iraq veterans will eventually experience PTSD.
Approximately 300,000+ returning Iraq and Afghanistan war vets -- a number equivalent to nearly 22% of America's active duty military -- suffer from post-traumatic stress disorder. And many feel that these estimates are too low. And more than 115,000 soldiers have sustained mild traumatic brain injuries (TBI).
Afghanistan and Iraq veterans (male and female) currently experience disproportionately high unemployment rates. Homelessness, alcohol and drug misuse by Afghanistan and Iraq veterans has increased significantly. Divorce and domestic violence is increasing within families where one or more parents is an Afghanistan or Iraq veteran. Child abuse is increasing in families where a parent is deployed to Afghanistan or Iraq, and child maltreatment has increased in families of enlisted soldiers when the soldiers are deployed. Without a doubt, the data strongly suggests that an emerging storm is approaching American society. The Attorney's Guide to Defending Veterans in Criminal Court is a response to these realities.
The National Veterans Foundation feels it important to understand that this publication is not to be seen as a "get out of jail free" card. It is intended to provide for the best defense possible, while striving to obtain treatment for the veteran during the sentencing phase of a trial. To be incarcerated without ongoing and aggressive treatment, veterans have a stronger chance of returning to the general civilian population with ongoing and unresolved issues. Treatment is a critical component of a successful defense.
Attorneys who take on the defense of veterans become a part of the same continuous battle the veteran faces, are not only defending the veteran's constitutional rights, they are providing support and defense for their clients – even against themselves.
All proceeds from the sale of the Attorneys Guide to Defending Veterans in Criminal Court goes to the ongoing work of the National Veterans Foundation.
###