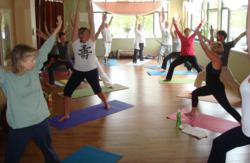 "The Free Day started because I wanted to give back to the community on a regular basis by offering free classes all day for all who attend," said YogaSoul Owner Tarisa Parrish
Eagan, Minnesota (PRWEB) December 29, 2011
YogaSoul Center in Eagan is offering a free day of classes, food and fun as a way of giving back to the community. The event will also provide an opportunity for participants to sample a variety of classes that may help support their heath, wellness and fitness goals for 2012.
The annual Free Day will take place Jan. 7, beginning at 8 a.m. with a Hatha yoga class, ending at 4 p.m. with a 45-minute gong meditation. The center's teachers will offer 45-minute classes throughout the day, including Pilates, Kundalini yoga, laughter yoga and more.
"The Free Day started because I wanted to give back to the community on a regular basis by offering free classes all day for all who attend," said YogaSoul Owner Tarisa Parrish. "It is also a way for new people to check out the studio, meet the teachers, connect with others and just have fun."
Typically more than 150 people attend the Free Day, which is also offered in September. Food will be offered, and so will discounts on class passes, as well as healing and Pilates equipment sessions.
To learn more about or register for the day, go to https://clients.mindbodyonline.com/ASP/home.asp?studioid=4214.
YogaSoul Center's mission is to help clients win the battle against stress. It has an extensive class offering in several styles of yoga, including Kundalini, Hatha, Yin, and Vinyasa. It boasts a fully equipped Pilates studio and offers many kinds of classes, including Zumba, Tai Chi and belly dancing. Its full roster of teachers and healers provide clients with a variety of healing services, including intuitive readings, Reiki, Thai yoga bodywork, Ayurveda, energy work and several others. YogaSoul also hosts special workshops and Kundalini yoga teacher trainings.
To see a full schedule, make an appointment with a healer or sign up for a class, visit YogaSoul's website, http://yogasoul-center.com/. New students get their first week of classes free.
###