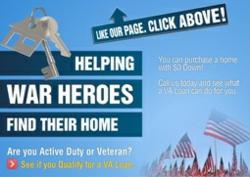 "It is an honor to help a hero in need, and it is a great opportunity for our company to give back to those who served in our country's armed forces." Garrett Puckett (2011)
Houston, Cypress, Katy, Galveston, Conroe, The Woodlands, Kingwood, Spring, Texas (PRWEB) December 27, 2011
Security America Mortgage proudly announced their two newly launched Houston VA Loan websites on Friday, December 23, 2011. Both websites, which were sponsored by the company to inspire Houston Armed Forces to buy and refinance homes using VA Loans, were combined in order to enhance the VA Loan Advantage and the VA Home Loan Process. Both the "VA Houston Loan" website and the "VA Lending Houston" website gravitate around VA Home Loan services that focus specifically on the VA benefits being offered within the Houston areas - only. With the new advanced Houston Veteran Loan web services, VA Home Loans can be offered to eligible veterans who either (A) or (B):
A. Currently live in Houston, Texas and want to refinance their current home mortgage using a VA refinance Loan.
B. Currently want to buy a new home in Houston, Texas (and/or surrounding areas) by using a VA Guaranty Loan.
Security America Mortgage, Inc. collaborates with Security America Realty, Inc. to offer highly advanced VA Loan Services, which is a key business relationship attribute that contributes to producing a vast range of expert professionals, having both mortgage loan officer backgrounds and real estate industry experience on hand - at all times, in any time of need during the closing of a new or refinanced home. By having the best people from both industries supporting the VA loan goals of Security America Mortgage, Inc., the company continues to increase their competitive advantage in the industry time and time again. Delivering the best VA loan services and providing the lowest VA loan interest rates for Houston VA Loans, along with the Real Estate and Mortgage Industry Markets remains second on the Security America Mortgage, Inc. goal list. With the Houston location specific details on the newly launched websites, Security America Mortgage make accessing information about VA benefits, VA Home Loans, VA Process, Home Buying, ect., that much more accessible and easy for military homebuyers and homeowners wanting to learn more about these awesome VA services in Houston.
VA Home Loan Specialists truly understand the value of working beside military men and women who are eager to buy a home that will have a low VA loan monthly payment. The Houston VA Loan Specialists are now giving Veterans within the Houston area the attention they need most, all while offering the lowest-fixed interest rates in the VA loan market in Houston, Texas. Likewise, the Real Estate Agents in Houston can bring the perfect homes to Veterans at extremely impressive speeds thanks to the new location specific property locators available on the Houston websites. With the Houston VA Home Loan web services in place, Security America Mortgage are guaranteed to optimize the Houston VA Loan Process by providing the most information to veterans and active-duty service members who may be very new to VA benefits, and the VA loan process. Military families who previously needed more assistance with VA benefits and VA loan services can now expect to receive the attention they deserve, and in the areas of their interest by working with a VA Loan Specialist from Security America Mortgage, Inc. in Houston.
All eligible veterans and active military personnel can now learn more about the Houston VA Loan Benefits, VA Loan Refinance options, and other VA services utilized throughout the micro-websites. With website details that hone in on veteran benefits and other pertinent services, veterans can find homes and services that match their needs, which is especially true for those who are wishing to own a home in the United States by using VA loans. Now more than ever, the VA Loan Specialists can work even more exclusively than before with military clients during the Houston VA Home Loan Process.
Security America Mortgage, Inc. plan to bring more innovative websites in the near future in the effort to help support military members and veterans located within certain cities so that looking for a home to buy is made easy for the military buyers who qualify. All in all, Security America Mortgage, Inc.'s MISSION is to make all Houston VA Loan information transparent and available to military members who are eligible to receive VA benefits. By consultanting the experts in Houston VA loan services, all United States Military Armed Force affiliates - service men, service women, and veterans everywhere, can expect deliverance of the perfect home and VA home loan buying experience a guaranteed victory when choosing Security America Mortgage, Inc. as your personalized VA Home Loan provider and processor in Houston, Texas.
Learn More Here: VA Home Loans with Low Interest Rates, VA Guaranty Loans, Houston VA Loan Refinance, and VA Benefits Consultation.
"Get Started" with the VA Houston Loan Office to See if You Qualify for a VA Home Loan in Houston Now!
# # #