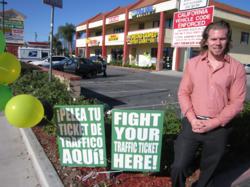 At each location, we provide bilingual reps and documents in both English and Spanish, making it convenient for those who prefer either language to take care of their traffic ticket
San Diego, CA (PRWEB) December 27, 2011
Within just a few years, TicketKick has become the fastest growing legal document service, helping over 500 drivers per month fight traffic tickets through the mail. Until recently, their customers could either sign up for the service online, or over the phone. This month, TicketKick celebrated the grand opening of their first two in-store locations, complimenting their online and phone service. At TicketKick Authorized Service Centers℠, customers can speak with a bilingual TicketKick Authorized Agent to learn more about how TicketKick can help them obtain a ticket dismissal, or, they can sign up for the service right in store.
The TicketKick Authorized Service Centers℠ are conveniently located inside Papa Cash stores in West Covina at 1001 E Amar Road #104 West Covina, CA 91792 and in Baldwin Park at 14135 Francisquito Ave. Baldwin Park, CA 91706. TicketKick plans to offer their service at more convenient in-store locations in the future.
"Everyone gets traffic tickets, so our market is very diverse. We find that many people in the Hispanic community prefer to do business face-to-face, and we're happy to cater to their needs and preferences," says Greg Muender, Founder and President of TicketKick. "At each location, we provide bilingual reps and documents in both English and Spanish, making it convenient for those who prefer either language to take care of their traffic ticket."
TicketKick helps drivers contest their ticket through a trial by written declaration, or, trial by mail. About 70% of TicketKick's customers get their tickets completely dismissed, and, since TicketKick offers a 100% money back guarantee, those who don't win their case get their money back.
"Traffic ticket fines in California are as high as ever, and people simply can't afford to have one on their record. We help people facing hundreds of dollars in fines get their tickets dismissed without ever having to go to court. We know the economy is tough out there, so we've built our service to offer the money back guarantee, that way people have nothing to lose in trying. It's a win-win," Greg said.
TicketKick's service can help drivers with speeding tickets, red light camera tickets, stop sign tickets, cell phone tickets, and most other common traffic infractions.
About TicketKick®
TicketKick is a registered and bonded legal document assistant in California, providing self help services in assisting drivers to beat traffic tickets, using a similar service model to companies such as LegalZoom and E*Trade. TicketKick works with traffic attorneys and law school graduates who work together to complete legal documents in a ministerial manner at the specific direction of the customer with the goal of helping the customer obtain a ticket dismissal. About a 70% of TicketKick's customers receive a dismissal of their ticket. TicketKick offers an industry exclusive 100% money back guarantee for customers who may be found guilty after using their services. TicketKick representatives can be reached at (800) 580-1902, at http://www.ticketkick.com, or at questions(at)ticketkick(dot)com.
# # #