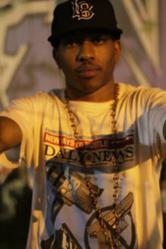 Zakee Ali
Atlanta, GA (PRWEB) December 27, 2011
This week on Hoodstarzz, Zakee Ali Spoke on the lack of intelligence in music and how he plans to bring back Real Hip-Hop.
Living in the days where to be a successful rapper, one has to dumb down lyrics, do snappy dance moves, or simply create "gangsta music", rapper Zakee Ali has managed to make his impact on the rap game without doing any of the above. This week on HoodstarzzTV, Zakee Ali will give exclusive insiders on why he refuses to lose his hip hop roots, what he feels is missing in today's hip hop, and how he plans to bring back real Hip Hop.
Based in Atlanta, GA, Hoodstarzz TV is an entertainment online web based TV show hosted by Terry "Head" Miles. Produced by S Dot Management Group, the show features celebrity interviews, hot topics, and music videos.
Airing every Tuesday 9:30P-10:30P EST on http://www.hoodstarzztv.com, T.Miles gives over 300,000 viewers an inside look from the Industry to the Streets.
According to new statistics released by Ericsson, Internet television is experiencing rapid growth with half of consumers watching internet-based on-demand television online each week and a whopping 70 percent of consumers downloading, streaming or watching recorded broadcast television each week. Ericsson's 'Multi Screen Media Consumption 2010′ data also showed the promise of future revenues from Internet TV, as well as a shift in customer spending towards video services.
For all the exclusive details, new videos, and latest news on Zakee Ali, be sure to tune in every Tuesday at 9:30PM on HoodstarzzTV.com.
###