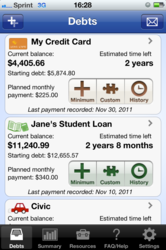 This is by far the best Debt App manager in the app store
Tempe, Arizona (PRWEB) December 27, 2011
Getting out of debt is one of the most popular New Year's resolutions each year. The newly updated Pay Off Debt iPhone app helps turn that resolution into reality.
Pay Off Debt uses the debt snowball method to help users laser-focus on knocking out one debt at a time until they reach their goal of becoming debt free. Maintaining motivation during the process is key, and Pay Off Debt provides exactly that.
The customizable Pay Off Debt iPhone app provides an estimate of when users will be debt free based on their preferred method of debt repayment: lowest balance, highest interest rate, or any order at all. That means users can make eliminating that debt to a family member top priority if they prefer, regardless of interest rate or balance.
Newly added amortization tables and charts allow users to see how the plan works and where they stand with their debt repayment progress. Users can also browse the associated Debt Myth web site from within the app itself for additional support, information, and encouragement.
Users have this to say about the app:
"I absolutely love this app! It helps me stay motivated to keep that snowball rolling, AND instead of trying to come up with the words to explain it to my husband this app did it for me. He is 100% on board with dumping debt now!" -Steph
"This is by far the best Debt App manager in the app store" -Maurice Butler
Availability:
The Pay Off Debt iPhone app is currently available through the App Store in the Finance category in the United States, Canada, the UK, and Australia. A Pay Off Debt for iPad version is also available.
###