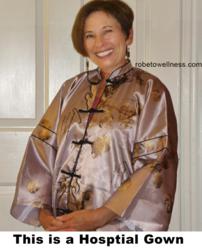 Radiation patients can feel good and look good during treatment.
Princeton, New Jersey (PRWEB) December 26, 2011
High fashion now comes to hospitals. Finally there's an alternative to the ugly, uncomfortable hospital gown. Dr. Toby Israel, a Princeton, NJ-based breast cancer survivor and a founder of Design Psychology, has developed a designer robe for women undergoing radiation treatment for breast cancer. The "Robe to Wellness," an alternative to the traditional "blah" hospital robe is now available.
Uniquely, online and in-person social networking is crucial to the making of the robe, thereby tapping into the patient-centered philosophy now sweeping U.S. hospitals: To provide for women's psychological as well as physical well-being, 'well wishes' messages of support posted by people around the world on http://www.robetowellness.com have been transferred on to labels. Survivors at the YWCA Princeton Breast Cancer Resource Center in Princeton, N.J. sew such personal greetings into the robe collars.
The robes were developed based on input from breast cancer survivors who attended focus groups at the YWCA Princeton Breast Cancer Resource Center last year. Both the weekly "Robe to Wellness Sewing Circle" and the robes, themselves, are intended to offer personal, 'woman to woman,' emotional support to women on the journey through breast cancer.
The robe's kimono style, luxurious colors and soft fabric were specially selected by Toby Israel, Ph.D., to help women feel feminine, empowered and renewed. She explains, "The robe's leaf print wraps women in gentle botanical imagery, allowing them to envision the healing power of nature."
Evidence-based research suggests that natural scenes aid in healing. A landmark study by Roger Ulrich (1984) found that patients with views of nature used less narcotic and milder analgesics, indicating lower pain experience. Such patients also had shorter hospital stays and a more positive surgical recovery overall than those whose views included no natural elements.
The robe has been designed to be both 'wearable" and 'hangable art.' Israel explains, "When displayed on a kimono rod, the gown helps transform hospital, doctor and other healing arts places into welcoming oases for patients on the road to recovery. Such 'hangable,' 'wearable' art also is meant to provide a positive distraction for patients and caregivers."
Two New Jersey hospitals, the University Medical Center at Princeton and Capital Health Medical Center in Hopewell, N.J. have purchased the gowns for women undergoing radiation at their new facilities.
Dr. Israel comments:
My journey to develop the 'Robe to Wellness' began when I was diagnosed with early-stage breast cancer. Wearing my own elegant robe to each of my radiation treatments made me feel like a queen staring down cancer. Now, using this experience and my expertise as a design psychologist, I've developed a naturally nurturing robe with a healing 'Well Wishes' message sewn into each gown's collar. Besides the life-enhancing robe, this project's online and in-person networking spreads the message: "You are not alone. GO GIRL!"
Although the gown is available for individual sale online, my hope is that hospitals around the world will adopt the "Robe to Wellness" for everyone undergoing radiation treatment.
For more information contact Toby Israel, Ph.D. (609) 683 1317
Biographical note:
Toby Israel, Ph.D. is the founder of Design Psychology, a field that has gained international attention, including in the L.A., N.Y. and Financial Times, The Wall Street Journal, the Philadelphia Enquirer, and NPR's "Talk of the Nation," and "Radio Times." A multi-disciplinary professional with degrees in environmental psychology, education and the arts, Dr. Israel has more than thirty years of experience applying scholarship to the "real world" practice of design.
She has served as an environmental consultant in the USA and UK including as head of design research for Looney Ricks Kiss and director of the Visual Arts Program for the New Jersey State Council on the Arts. A former professor of architecture and psychology at the University of Lincoln (U.K.), her most recent projects and presentations involve using Design Psychology to create healing places and products. Her mission to deeply connect people and place, is described in her book, Some Place Like Home: Using Design Psychology to Create Ideal Places. She is the author of Psychology Today's "Design on My Mind" blog and has a private practice working directly with designers and clients.
Contact:
Toby Israel, Ph.D.
Tel.: (609) 683 1317
Email: tphoenix3(at)gmail(dot)com
http://www.robetowellness.com
Walnut Lane
Princeton, NJ 08540
# # #