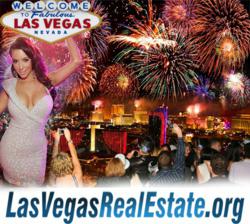 Las Vegas is #1 for Top 10 New Year's Destination 2012
Las Vegas, NV (PRWEB) December 26, 2011
Luxury high rise condos for sale in Las Vegas offer some of the best locations and views to take advantage of the Las Vegas strip and lifestyle. Every year, investors and buyers alike flock to Vegas to participate in one the largest all day parties with multi-outdoor concerts in the world and to witness a free world-class show at mid-night on the Las Vegas Strip. While thousands of visitors gather in the streets to celebrate and ring in the new year, they become part of the show to the lucky viewers watching from their Las Vegas high rise condos.
Ashley McCormick of Realty one, Nevada's #1 company for Las Vegas real estate sales, specializes in Las Vegas high rise condos and notes it's one of the busiest times of year. McCormick says that once these tourist experience New Years in Las Vegas and realize they can buy and own their own high rise condo for as little as $150K, many want to own that view. She adds that this year 90% of high rise buyers this year have been all-cash buyers taking advantage of some the lowest prices in 20-years.
Las Vegas becomes a celebrity playground for New Year's Eve with parties featuring celebrities like Fergie, Kim Kardashian, B.O.B., LMFAO, Stevie Wonder, and more, there are plenty of places to find a star-studded event to bring in 2012. Plus, at midnight, eight hotels will simultaneously start the new year with it's world-famous fireworks display. This display is normally televised globally as Las vegas in known to be one of the most spectacular locations for New Year's Eve.
McCormick who has been in the Las Vegas real estate market for over 15-years mentions that Panorama Towers and neighboring high rise The Martin Las Vegas are very popular right now with their parallel strip views. Returning visitors wanting to be right in the action normally request MGM Signature or Palms Place condos. McCormick has acquired a toll free number to accommodate the out-of-state investor and buyer demand for high rises and can be reached at 1-888-920-2292. All Las Vegas high rise condos for sale to include over 15,000+ Las Vegas homes can be searched on http://www.LasVeagasRealEstate.org.
# # #