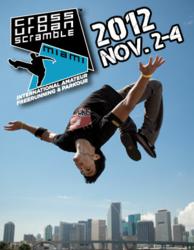 "It's amazing that we already have 19 nations represented, including Palestine, Israel, Iceland, South Africa, Venezuela and Chile!"
Miami, Florida (PRWEB) December 27, 2011
Parkulture announced the first ten teams and individuals that will participate in the 2012 Cross Urban Challenge parkour and freerunning games to be held in Miami, Florida from November 2 to 4, 2012. "We have received over 500 entries from the entire world and the judging was quite difficult," says Adrian Gonzalez, co-founder of Parkulture and jury member. "It is amazing to see all the talent, especially when it comes from unexpected places like Palestine."
The organizing committee also announced the re-scheduling of the dates of the Cross Urban Scramble to November 2 to 4, 2012. "With some of our sponsors prior commitments with the Olympics Games and the Florida hurricane season, we had no choice but to move the event to November." explained Rock Nakajima, co-founder of Parkulture. "We are a new event in a new sport and it is our responsibility to put forward the best event possible. We are committed to making this a free event for participants and the added time will give us the opportunity to find national sponsors who will support each and everyone of our 150 athletes."
Parkulture also announced that the original March dates will still be used. "We are scheduling a US only qualifier to select the US teams and individuals that will be selected for the November competition," says Gonzalez. The March event will be by invitation only and all teams and individuals will be selected from the video entries submitted for the Cross Urban Scramble. More details to follow.
The complete list of athletes is available online on the Parkulture website. The next 10 teams and individuals will be announced in January 2012 once the first group has completed their registration.
Parkulture LLC is a Florida based international public benefit organization, with over 130,000 members, dedicated to the comprehensive development of parkour and freerunning at an amateur level. It is also the organizer of the Cross Urban Scramble and Parkulture Festival, the first international amateur competition.
###