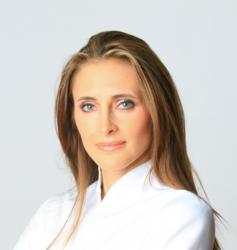 (PRWEB) December 29, 2011
For those who are making a New Year's resolution for healthier skin, Dr. Channing Barnett of New York based Barnett Dermatology offers the following skincare tips:
"For starters," says Dr. Barnett, "hydrate your skin both during the day and at night." Properly hydrated skin is firmer and brighter than dehydrated skin and doesn't show lines and wrinkles as dramatically. Hydrated skin also means fewer acne breakouts.
For daytime, she recommends a gentle moisturizer with a broad-spectrum sunscreen of SPF 30 or greater. This daytime moisturizer should also be non-comedogenic (non-pimple forming), non-irritating and easy to use with makeup. The combination of hydration and sun protection achieved with a moisturizing sunscreen will help protect the skin from dryness, sun damage and long-term aging. Her personal favorites include Elta MD's UV Clear for acne-prone skin and Elta MD's UV Daily for sensitive, dry skin.
"At bedtime, hydration is the focus, and sun protection obviously is not a factor. Therefore, I recommend using one hydrating product for the eyes and one hydrating product for the face," says Dr. Channing Barnett. "There are many eye and face products available being marketed as "Anti-Aging," however many of these include ingredients that can be irritating and drying such as retinol or glycolic acid. The key is to find bland, gentle, moisturizing products that hydrate and protect the skin. The eyes especially are very sensitive and dryness contributes to their looking wrinkled, discolored and puffy." For the face, Dr. Barnett recommends Elta MD's PM Therapy Facial Moisturizer, Cerave® Facial Moisturizing Lotion PM or Cetaphil Moisturizing Lotion. For the eyes, she recommends Obagi ELASTIderm® Eye Treatment or channingMD's Healing Ointment.
Let's also not forget to drink water for healthier, hydrated skin.
Dr. Barnett's next recommendation is to "get those blackheads and pores under control! We all have them and we all hate them." Blackheads are large, open pores containing oil that has oxidized from the air causing it to turn black. Removing the oils through methods such as acne extractions or pore-cleansing devices such as the Isolaz™ temporarily minimizes the blackheads. "But once the oil fills back up in the pore, the blackhead will appear again," says Dr. Barnett. "The key to getting them under control is in combining the removal process with exfoliation treatments to keep the pores clean." Exfoliation treatments include topical alpha-hydroxy acid products, topical RetinA or retinol products, or office-based treatments such as SilkPeel® Dermalinfusion. These treatments will also slough off dead, rough patches and brighten one's complexion, resulting in refreshed and rejuvenated skin.
Third on the list of Dr. Barnett's healthy skincare tips is sleep. "Get your sleep!," says Dr. Barnett. "We are all tempted to cut into our sleep time in order to increase our productivity. However, lack of sleep takes a toll on our skin. It enhances puffiness, dryness, and texture imperfections leading to more noticeable fine lines and wrinkles."
Finally, reduce daily environmental toxins, which include habits such as smoking and alcohol consumption. "Every time you light a cigarette," says Dr. Channing Barnett, "you inhale hundreds of known toxins and carcinogens that can damage your health and visibly impact your skin. We are all familiar with the smoker's lines that form around the mouth that can be very difficult, time-consuming and expensive to treat. Better to avoid them all together!"
For more information on products and procedures, visit http://www.barnettdermatology.com.
About Barnett Dermatology:
Barnett Dermatology is a unique dermatologic practice in New York City led by a father and daughter partnership. Established in the 1970's, Barnett Dermatology is nationally and internationally recognized for its pioneering work in dermatology and dermatologic and cosmetic surgery. In addition to diagnosing and treating dermatologic conditions such as acne, scars, warts, moles, birthmarks, psoriasis and skin cancer, Barnett dermatology specializes in the full range of cosmetic dermatology.
About Dr. Channing Barnett:
Dr. Channing Barnett is a board certified dermatologist with particular expertise in dermatologic and cosmetic surgery. She is the daughter and partner of Dr. Jay G. Barnett who founded Barnett Dermatology.
###