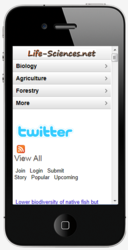 Biological Sciences @ Life-Sciences.net
(PRWEB) December 28, 2011
The Biological Sciences Social Network Life-Sciences.net features the latest scientific publications in the basic and applied life and earth sciences including biology, agriculture, forestry, the environmental sciences, and the health sciences. The Biological Sciences category of the Life-Sciences Social Network covers life and living organisms, including their structure, function, growth, origin, genetics, and distribution. This section currently contains nearly half a million articles. A great part of these contributions derive from almost one thousand international scientific journals covering this discipline.
One of the latest inclusions aims to optimize and use a spectrophotometric method for determining polysaccharides in Echinacea purpurea. Echinacea purpurea is one of the most widely used immunostimulant plants. Its main active compounds are polysaccharides, glycoproteins, caffeic acid derivatives, alkamides, and melanins. The authors of the article describe an optimized extraction procedure that enables spectrophotometric quantification of polysaccharides from Echinacea purpurea in flowers and leaves, in summer and autumn plants, in plants with green and red stem, and in plants from two different plantations. They found significantly higher content of polysaccharides in flowers in comparison to leaves, as well as in plants with green stems in comparison to plants with red stems. There were no significant differences between plants collected in different seasons and growing at different plantations.
Another article deals with in vitro plantlet production of the endangered carnivorous plant Pinguicula vulgaris. Pinguicula vulgaris is a plant with a northern, disjunctly circumpolar distribution and specific habitat requirements, and is hence becoming increasingly rare. The article describes the development of a micropropagation protocol for Pinguicula vulgaris using cultures initiated from in vitro produced seedlings. Shoot proliferation was significantly influenced by Murashige and Skoog (MS) macronutrient concentration and the best medium for propagating Pinguicula vulgaris was plant growth regulator (PGR). The authors were able to successfully acclimatized the plantlets to ex vitro conditions where they exhibited normal development.
The Biological Sciences Social Network Life-Sciences.net was established to discover and share scholarly and popular content in the basic and applied life and earth sciences including biology, agriculture, forestry, the environmental sciences, and the health sciences.
While the very latest Biological Sciences content is rarely older than a few minutes, the front page of Live-Sciences.net usually presents stories submitted ca. 20-60 minutes ago. All categories including that of Biology feature RSS Feeds. The site's own search function enables users to search for specific keywords or phrases. For every story displayed, this search functionality automatically suggests up to 10 related articles which are displayed sorted by relevancy.
The site newly provides an Life-Sciences.net portal for mobile viewing at m.life-sciences.net. Life-Sciences.net maintains the increasingly popular Twitter account @Life_Sciences_ which currently features 89,826 tweets and 1,294 followers. The Biology category is represented by Twitter's @BiologyMag featuring 79,369 tweets and 809 followers.
###