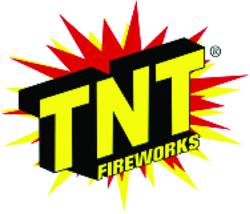 Florence, AL (PRWEB) December 28, 2011
TNT Fireworks – the nation's largest distributor of consumer fireworks and sparklers – is encouraging Americans to safely enjoy their New Year's celebrations with the following tips:
Take Precautions. Always keep a hose and a bucket of water nearby in case of emergencies.
Light One At A Time. Never light two or more fireworks or sparklers at the same time.
Keep It Outside. Only use fireworks and sparklers outdoors on flat, hard surfaces in clear areas and away from houses, buildings and dry grass.
Have Adult Supervision. Never allow young children to light or handle fireworks or sparklers. Be aware of the minimum permitted age in your state. Adults should always be present when lighting or handling fireworks or sparklers.
Stay Alert. Never mix alcohol or other substances with fireworks or sparklers.
Stay Clear. Never hold a lit firework in your hand. Keep as far from them as possible when lighting.
Let Sleeping Fireworks Lie. Never try to relight fireworks or sparklers that do not ignite. Wait 15 to 20 minutes before approaching them, then soak them with water and throw them away.
Protect Your Pets. Animals are often frightened by the sounds of fireworks. Protect your "best friends" by keeping them indoors, secure and away from the loud, sudden noises.
Most importantly, check local and state legislation to identify which products are legal and only purchase those permitted by law. Also, always check the label and instructions on fireworks and sparklers to ensure they come from a reliable, legal and licensed source.
For more information or to speak with Sherri Fallin, spokesperson for TNT Fireworks East, please contact Chris Giallanza at 404-446-1677.
About TNT Fireworks
TNT® Fireworks (TNT) is the nation's largest distributor of consumer fireworks and sparklers. For more than 50 years, TNT has set the benchmark for safety, customer satisfaction, innovation and quality in the fireworks industry. For more information about TNT Fireworks, visit http://www.tntfireworks.com.
# # #