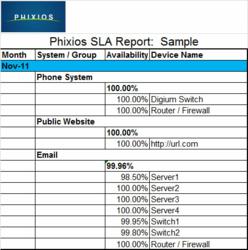 With the Phixios' IT Outsourcing Verification, companies can obtain an independent verification of their outsourced IT infrastructure.
Frisco, Texas (PRWEB) December 28, 2011
The Phixios IT Outsourcing Verification Service is a Cloud based service that provides "agentless" availability reporting. Customers can use the service to verify a specified portion of the outsourced infrastructure, or the entire outsourced infrastructure. The service provides monthly reports for availability of the systems and devices monitored as well as access to the Phixios portal to view ad-hoc availability reports. The service includes availability at a device level and a group of devices to show system level availability.
The low cost, per device service allows customers to verify the entire outsourced contract, or to verify designated systems each month. The service includes the flexibility for the customer to change what systems and devices are audited each month.
The service is designed to provide an independent verification of the availability SLAs that the outsourcing contractor provides.
###