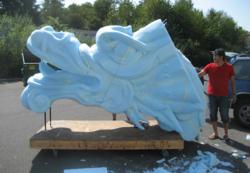 (PRWEB) December 28, 2011
Most people don't know that many prolific artists spend a majority of their professional careers in the reproductive stage and not in the studio creating new artwork. Building a business as an artist and making a collection profitable often requires scalability; the ability to recreate pieces of art in a number of sizes depending on a customer or collector's need. Historically, these recreations could monopolize an artist's time – require several months or even a year to recreate a single piece. Additive Workshop is working to rectify that and it appears to be working with growth numbers being announced as high as 40% since their acquisition by Masterpiece Investment Corporation in 2010.
Technology advances in the art world are working to change and get artist back where they belong – in their studios, creating art. The artists at Additive Workshop are using cutting edge technology to create exact replicas of artwork as it was originally meant without the inevitable reinterpretation and at any scale.
Additive Workshop uses 3-D computer modeling, triple light scanners and a 7-axis rotating arm to help artists increase their production up to 350%, while still preserving the integrity of their work. "This allows artists to focus more time on creating new pieces of art while technology focuses on expanding their reach and growing their business" said Mark Ghiglieri CEO of Masterpiece Investments Corporation, a fine art company based in Wilsonville, Oregon who acquired Additive Workshop in 2010.
Additive Workshop's technology starts with a triple light scanner that is used to take 3-D computer models of any piece of art. The scan is then transferred to a 3-D photo rapid prototyping system which can build 3-D models with details as small as .0006 of an inch. This means Additive can make any artist's whole collection scalable or turn a small piece of art into a 30-foot monument in only a matter of weeks, not the months or years it would have taken them previously.
Other studios are using technology to recreate art; however, Additive is the first to employ actual artists for every aspect of the business. "Being artist owned, run and operated gives us a unique ability to work with the technology like an artist would, not an engineer, " said Mark Ghiglieri, "most artists appreciate that they are working with a team that understands their art and the meaning behind it and they want to keep that intact" said Mark Ghiglieri.
Some of Additive Workshop's most significant projects have been in collaboration with Michael Curry Design. Those projects include the Spirit Bear that appeared in the Opening Ceremony of the XXI Olympic Winter Games in Vancouver, the 27-foot dragon that sits in the entrance of the Wynn Casino in Macau and on the Transformers used by Universal Studios for press around the movie of the same name.
"After 20 years of managing a traditional sculptural workshop we have become very dependent on sculptural models. Our usual method involves creating a very detailed miniature model and in collaboration with Additive Workshops methods we're able to achieve reproductions that are absolutely accurate and perfectly crafted. With my corporate clients such as Disney, Universal Studios and other brands this precision and accuracy to the model is very important. So it's advantages for my sculptural business is that I'm able to spend more time on the creation of the artwork than managing scaling and process issues. We are involved in many different scales and techniques," said Michael Curry, artist and founder of Michael Curry Designs.
"Additive Workshop has proven to be very versatile and at the heart of it all lies a world class sculptural sensibility. I am a very exacting artist and I keep returning to Additive Workshops because they share the same values," said Curry.
Additive continues to look forward to new technology with the goal of giving even more time back to artists to allow them to be artists, not machines focused on reproduction.
"Additive Workshop bridges the gap between the real world and the virtual world" said Mark Ghiglieri, "our technology allows us to bring pieces of art into the world in an infinite number of ways and that is why our business is exploding. Everyone from museums to movie studios needs our help to create incredible works of art in a short amount of time," said Mark Ghiglieri.
For more information about Additive Workshop, samples of their work and video of their artists at work, visit http://www.additiveworkshop.com.
About Additive Workshop
Masterpiece Investments Corporation includes six divisions: the Fine Art Gallery Division, the Charitable Division, the Bullion Division, Masterpiece Galleries through the Patron Company, the Additive Workshop Subsidiary Division and the Chiurazzi Foundry Subsidiary Division. Additive Workshop is a sculpting studio and 3-D workshop which specializes in combining traditional sculpting methods with cutting-edge technologies. Additive Workshop can create three dimensional images of any magnitude to any conceivable scale with perfect accuracy. In addition, Additive Workshop offers a full range of services, including computer aided design, 3-D modeling, scanning, bronze casting, resin casting, mold making, model analysis, reproduction, and milling. For more information visit http://www.mpi100.com.
# # #