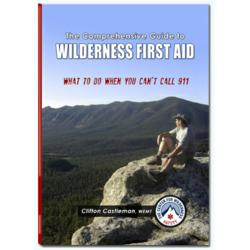 This book was one of the most fun and easy to understand books written on a very complex subject that I've read in a long time. It's definitely going in my pack on my next adventure!
- Allen Anderson, MD
Sterling, VA (PRWEB) December 28, 2011
Clifton Castleman, a wilderness EMT, wilderness medicine and American Red Cross instructor of over a decade, and executive director of the Center for Wilderness Safety, has published a new book that should be in everyone's first aid kit. The book, targeting everyone from the weekend outdoor enthusiast, to Search and Rescue professionals, is an easy-to-read reference and introduction to the field of wilderness and remote first aid; and shows how to recognize, treat, manage and prevent common injuries and illnesses encountered in the great outdoors. The book was released by The Center for Wilderness Safety and is available through http://www.WFAbook.com (ISBN: 978-1105188947).
This book reflects the ever-changing field of wilderness & remote medicine. It has been written to accompany many Wilderness First Aid courses as well as to serve as a reference book in the field. Small enough to add to any first aid kit, this book provides both basic and in-depth information needed to prevent, recognize, treat and then manage common medical problems for extended periods of time. This book also covers one of the most important tools of a wilderness first aider: knowing when and how to properly stabilize a severely injured or ill patient for evacuation.
Recommended for everyone from outdoor enthusiasts, Scouts, and adult leaders, to Search and Rescue professionals and outdoor educators, this comprehensive guide discusses the fundamentals of wilderness first aid: scene safety, patient assessment, and dealing with common emergencies such as wounds, burns, blisters, orthopedic, and environmental emergencies in the field.
Also covered in this book is a topic that is vital to any group or individual who ventures in to the great outdoors: risk management. A lot of wilderness first aid comes down to planning ahead and using common sense. Everything from knowing the risks of a certain activity, to properly stocking your first aid kit for the adventure you're about to embark upon are discussed and referenced throughout the book.
The book is currently available online through select retailers, and will be available through Amazon.com, Barnes & Noble, and many other bookstores in January 2012. The eBook version of this book (for Apple's iBookstore, Amazon's Kindle, B&N's Nook, and the Google eBookstore) will be available in January 2012 as well.
For more information about The Comprehensive Guide to Wilderness First Aid or author Clifton Castleman, please contact the Center for Wilderness Safety at (888) 945-3402 or email info(at)wfabook(dot)com.
About the Author
A member of the Wilderness Medical Society for many years and Eagle Scout, Clifton Castleman, the author of the new book, The Comprehensive Guide to Wilderness First Aid, is one of the co-founders of the non-profit organization, The Center for Wilderness Safety (CWS). CWS specializes in wilderness medicine education and training and is a leader in this relatively new field.
With a degree in Recreation, Park & Tourism Management from Penn State University, Clifton has pursued his passion for the outdoors through various channels. A Wilderness EMT and American Red Cross instructor of over a decade, he was awarded the American Red Cross' Patricia M. & James M. Hudson Health & Safety Award for his outstanding leadership and instruction.
Clifton enjoys giving back to the community. He currently serves as the volunteer medical team director for the Sierra Club's annual One Day Hike, a 100/50 Kilometer hike from Georgetown, DC to Harpers Ferry, WV that attracts hundreds of hikers from across the globe. He has served with a volunteer rescue squad, is a former member of the Shenandoah Mountain Rescue Group, and currently works with the National Park Service as a volunteer medic.
###