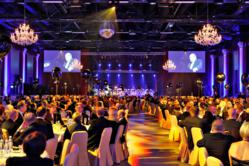 We are working with and encouraging ABC for the 2nd season of Karaoke Battle USA.
Cincinnati, OH (PRWEB) December 28, 2011
KWCUSA announced that Karaoke World Championships 2012 are being held in Finland, at Holiday Club Saimaa from 27th of November to 2nd of December. The exact dates and times are not final and are expected to be confirmed later.
Holiday Club Saimaa is only a one month old entertainment spa complex in the town of Lappeenranta, in its picturesque suburb called "Rauha" (which directly translates to "Peace" in English). Holiday Club Saimaa is the largest spa complex in the Northern Europe.
Wendell Payne, President of KWCUSA, says, "We are excited about the 2012 Karaoke World Championships and the later dates may provide us some opportunity for television that we didn't have last year. We are also putting in our bid to hold the Karaoke World Championships here in the USA in 2013. So we have a lot to do over the next 24 months. We fully anticipate winning the bid for 2013."
KWCUSA competition is currently underway in many states with anticipated expansion into all fifty states by the end of January 2012. The current schedule calls for completion of state championships in May and Regional competitions in June and July. However KWCUSA will work with the possibility of 2nd season of Karaoke Battle USA on ABC and the later KWC dates to do what's best for all.
Payne says, "We are working with and encouraging ABC for the 2nd season and with the support of the karaoke community, we can get the second season and more. So I would love to have everyone contact ABC at http://abc.go.com/site/contact-us to help boost our chances for continuing Karaoke Battle USA."
The 2012 Karaoke World Championships venue at Holiday Club Saimaa:
KWCUSA continues to support the effort to help Karaoke Hosts and Karaoke Venues become legal. Mention code KWCUSA and get additional 5% of Chartbuster Libraries.
About Karaoke World Championships USA (KWCUSA)
KWCUSA mission is to organize, facilitate, and manage a viable, impartial competition for the entire United States.
KWCUSA goal is to include as many possible singers from all states and territories of the U.S.A. and provide this opportunity to all amateur performers to represent our country at the Karaoke World Championships.
KWCUSA objective is to identify, prepare, promote true U.S.A. karaoke champions utilizing all of our organizations resources efficiently and effectively observing all guidelines established by the Karaoke World Championship Organization and to provide the due diligence required to facilitate our mission in its entirety.
KWCUSA is the only organization in the United States affiliated with the Karaoke World Championship organization. KWCUSA champions exclusively represent the United States in the only international karaoke competition.
The Karaoke World Championships (KWC) is the largest and most prestigious international karaoke competition in the world. This multi-cultural international music event without boundaries permeates the spirit of music, entertainment and fun.
# # #