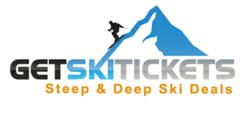 GetSkiTickets.com aims to connect skiers and riders with lift ticket discounts in the US and Canada.
Denver, Colorado (PRWEB) December 27, 2011
Skiing and snowboarding are hugely popular in North America. According to the National Ski Area Association, in the 2010 / 2011 ski season, there were 60.54 million skier visits across the United States alone. GetSkiTickets.com aims to connect skiers and riders with opportunities for purchasing lift ticket discounts and steep and deep ski deals in the US & Canada. "It is our goal to market specials and promotions on behalf of ski resorts while providing discounts and ski deals for eager skiers and snowboarders," states Erika Troyer from GetSkiTickets.com. Historically, skiers had to chase down coupons at gas stations, grocery stores and through Gold C Entertainment books. The market for purchasing discount lift tickets has changed drastically in the past several years. No longer do skiers have to drive around town scavenging deals at Costco or Safeway.
Online lift ticket vendors such as GetSkiTickets.com, centralize all ski deals by partnering direct with resorts and promoting real time discounts. In order to purchase lift ticket specials, consumers must select particular dates for skiing and riding. This enables resorts to gauge real time traffic to their slopes, in advance so they can market more effectively. Throughout the season, there are notorious slow periods, for instance, after the Holidays and before President's Weekend is historically a lull at many resorts in the US and Canada. By dropping the price of lift tickets, rentals and lessons in these soft periods, resorts can promote current specials through lift ticket vendors and drive business.
Skiing and snowboarding are extremely reliant on weather conditions. Weather patterns tend to change from year to year and thus premium conditions are not always a guarantee. Along with the variability of snow conditions, resorts have the flexibility to change prices on the fly to engage skiers when conditions are not optimal. This allows resorts to lower the rates of lift tickets in order to cajole skiers and riders to the slopes.
As e-commerce continues to dominate the purchasing cycle, it's no wonder that startups such as GetSkiTickets.com are carving out this niche for themselves. "Our daily task as a company is to get more people skiing and riding and provide resorts with a marketing engine to promote current lift ticket specials" states Heather Quinn, Co-founder of GetSkiTickets.com. "Skiers and riders want to ski more; resorts want to fill slopes with patrons, it's a win-win enterprise."
GetSkiTickets.com began operations in 2008 and has partnered with resorts in California, Nevada, New Mexico, Colorado, Utah and parts of Canada. Look for an expansion to more resorts across North America in the 2011 / 2012 ski season. GetSkiTickets.com also aims to sell season pass deals.
###