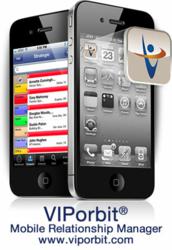 We are dedicated to providing the most robust contact management experience on the iPhone that empowers users to build relationships and grow their businesses.
Mike Muhney, CEO of VIPorbit
Keller, TX (PRWEB) December 29, 2011
MACWORLD on Facebook released the results of their Appalooza – The Greatest Apps of All Time Contest, a mobile app contest designed to celebrate the best iOS apps in today's vibrant marketplace.
Fans were invited to vote for their favorite iOS apps and help Macworld | iWorld create an ultimate list of the "Greatest Apps of All Time." Entries included apps from Macworld | iWorld's pre-populated list as well as user-submitted apps in categories ranging from games to lifestyle to music-photo and social apps. VIPorbit Mobile Relationship Manager was among those user-submitted apps to make the Top 25.
"We are dedicated to providing the most robust contact management experience available on the iPhone—not just another useful app but full-featured contact management software that empowers users to build relationships and grow their businesses," said Mike Muhney, VIPorbit CEO and co-founder. "VIPorbit is full contact management in the palm of your hand! It's what you know about who you know that extends your Orbital network and helps you leverage relationships for greater success."
Garnering third place in the "Everyday" category and eighth overall, VIPorbit joins the ranks with notable apps such as Angry Birds, Evernote, Pandora, and Diner Dash. Among the other up-and-comers named were TouchRetouch, Splashtop Remote Desktop, and iCookbook. Most of the iOS apps in contention will be represented at Macworld | iWorld Moblie Apps Showcase in January 2012.
Voter Acclaim
"This is really helpful in building relationship value and integrating contacts. I love my iPhone and this makes it even better," commented voter Dee Pearlstein, a freelance artist and writer.
"VIPorbit Mobile Relationship Manager has my vote! It's the best organizing manager out in app world," submitted voter Michelle Mcjunkie-Singer.
About Macworld | iWorld
Macworld | iWorld—taking place January 26 – January 28, 2012 at the Moscone Center in San Francisco—offers attendees a unique celebration of Apple technology-infused art, music, and film, as well as learning opportunities and a shopping mecca in the expo hall filled with products and services for Apple users of all skill levels and interests. From home users, to artistic hobbyists and professionals, and the true Technorati, Macworld | iWorld gives attendees the chance to experience all that the amazing world of Apple-related tools can offer.
The Mobile Apps Showcase, one of the most highly trafficked areas of the extensive show floor, offers attendees unparalleled opportunities to see, try and learn about the latest iPad, iPhone and iPod innovations directly from the developers and those who created them. Exhibiting companies include: ALK Technologies, Audioforge Labs, Byte Squared, La Tigre Hi, Audible Magic Corporation, iBird, Splashtop, Liv Games, Abvio, Appmosphere, Digital Right Brain, Zurapps Research, Boinx Software and Aquafadas. For more information, please visit http://www.macworldiworld.com.
Company Information
VIPorbit Software International, Inc. specializes in Mobile Relationship Management Software that helps businesspeople build sustainable relationship value, which leads to greater success.
The company's initial product, VIPorbit®, is the only full-featured contact manager designed for the iPhone. From the co-inventor of ACT!, it provides mobile professionals with an affordable, easy-to-use, anytime/anywhere solution that allows them to deal with more people, more effectively, elevating the value of their relationships. Visit http://www.VIPorbit.com for more information, and follow the company at http://www.facebook.com/VIPorbit, @VIPorbit on Twitter or http://www.linkedin.com/company/viporbit. Watch the Managing Contacts with VIPorbit video overview on YouTube.
###