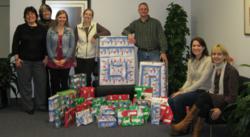 "The Holiday Giving program enables us to give back to our community while coming together as a team to help those in need." - Amy Ciatti (Director of Marketing, Deer Stags)
Waltham, Massachusetts (PRWEB) December 27, 2011
While ringing bells often symbolize the unique sounds of the holiday season, TwoTen's offices are filled with the sounds of ringing telephones. Record numbers of shoepeople contacted TwoTen this year seeking assistance as people struggle with everything from paying rent to heating their home. For many families, the possibility of having gifts to unwrap on Christmas morning seems completely out of reach.
To help fulfill holiday wishes for families in need, BBC International LLC, Collective Brands Inc. (Performance Lifestyle Group), Ecco, and Deer Stags Concepts, along with YP210 New York (Young Professionals for TwoTen), partnered with TwoTen to launch a pilot Holiday Giving Program. Wish lists to Santa were carefully compiled, and the wrapped parcels will show up just in time for the holidays!
"The Holiday Giving program enables us to give back to our community while coming together as a team to help those in need," said Amy Ciatti (Director of Marketing, Deer Stags).
One family who needed a little extra help this year was a single mom who works as a visual merchandiser in a retail store, and her two small children. Due to the economic downturn and her hours being cut, mom fell behind on rent. But disaster struck again when thieves broke into the family's apartment, robbing them of the most basic household items.
TwoTen granted financial relief to assist the family in their hour of need, and thanks to the Holiday Giving Program, this family received a microwave and kitchen utensils, clothes, warm bed sheets, and, of course, toys!
"On behalf of all of the families TwoTen serves, we wish to thank our corporate partners for making this program possible," said Kate Alley (Client Services Coordinator, TwoTen). "Spirits are brighter for eight families in need."
About TwoTen Footwear Foundation: TwoTen Footwear Foundation is committed to strengthening the footwear community with financial, social and educational support and services while nurturing community building and volunteerism. Shoepeople Helping Shoepeople.
###