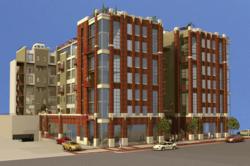 Salt Lake City, UT (PRWEB) December 27, 2011
SilverLeaf Financial recently announced the acquisition of a $17.7 Million non-performing loan, secured by a residential condominium and retail development in downtown Salt Lake City, Utah. The primary collateral of the loan is the Broadway Park Lofts development. The project is comprised of 86 total residential condos, 34 of which are completed and move-in ready. The remaining 52 condos along with the commercial retail space (9,490 SF) on the ground level are in gray-shell condition. The condo units range in size from 550 - 1,134 SF and have 1 or 2 bedrooms. 87 underground parking spaces are available on site to accommodate the condominium owners. The ground level office/retail space is split into six units along with 23 additional parking spaces.
The project had experienced numerous delays in the past few years, and is now ready for completion. The development has been approved for FHA financing which will facilitate sales to more end buyers of the units. The loan originated in 2006 for the purpose of refinancing an existing loan made by the developer as well as to provide additional funds for the construction of the development. Included in the collateral are 4 large commercial units located in a mixed use condo development nearby. The loan is also secured by a second lien on an 11,816 SF multi-tenant retail building in Salt Lake City.
The metropolitan real estate market in Salt Lake City is improving, and there is a strong demand for affordable downtown living. Substantial revitalization efforts are underway by the city, which include three blocks of new residences, offices and retail stores opening in the spring of 2012. The city hopes that this face lift will spark sales and increase nearby real estate values, thus improving the overall economic health of the city. The majority of the other newly constructed high rise condo developments are considered "luxury living". This will put projects like Broadway Park Lofts in a good position to offer condominium buyers a prime location downtown at a lower price point.
About SilverLeaf Financial
Headquartered in Salt Lake City, Utah, SilverLeaf Financial is a private equity firm focused on acquiring non-performing commercial loans secured by first position trust deeds. These assets are acquired from the FDIC, regional banks, national banks, special servicers and other financial institutions for the purpose of future monetization. For more information, visit SilverLeaf Financial's website http://www.SilverLeaf-Financial.com
###