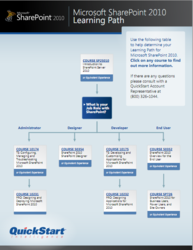 Irvine, CA (PRWEB) December 29, 2011
DThe expanding universe of information technology solutions brings with it a growing challenge for IT professionals to find the best path for their careers. QuickStart Intelligence, the largest Microsoft Gold Learning Partner in the western United States, has introduced their exclusive QuickStart Intelligence Learning Paths to make it easy for these professionals to chart the roadmap to their future, and to provide business and industry with much needed expert human resources to improve their ability to best leverage these technologies.
Regularly updated by QuickStart's Microsoft-certified instructors, each of the QuickStart Customized Learning Paths is designed to focus on specific Microsoft training courses for every IT job role and technology, including:
•Microsoft Lync Server
•Microsoft Windows 7
•Microsoft SQL Server 2008 - Database Administrators
•Microsoft SQL Server 2008 - Database Developers
•Microsoft SQL Server 2008 - Business Intelligence Developers
•Microsoft SharePoint 2010
•Microsoft SharePoint 2010 Business Intelligence
•Microsoft Windows Server 2008
•Microsoft Exchange Server 2010
•Microsoft Exchange Server 2010 and 2007
•Microsoft Office SharePoint Server 2007 and SharePoint Services 3.0
With the growing diversity of Microsoft competencies, students have found it increasingly more difficult to identify exactly which courses they need to take to qualify themselves for certification. The interactive Learning Paths, which can be accessed directly at http://www.quickstart.com/training/paths/index.aspx, each include hyperlinks directly to the required course descriptions and session schedules making it easy for students to plan their education. QuickStart offers Transcender test preparation kits and Prometric exam vouchers to students progressing along these Learning Paths.
QuickStart students have consistently found that Microsoft Certifications enable them to better market their skills and ultimately enjoy higher salaries and faster career growth. The QuickStart Customized Learning Paths make obtaining those valuable certifications much faster and easier than ever before.
ABOUT QUICKSTART INTELLIGENCE
QuickStart Intelligence, headquartered in Irvine, CA, is a leading provider of IT training solutions with locations throughout the Western United States. For 23 years, over 200,000 IT professionals throughout the world have come to QuickStart as their source for IT technical and developer training. One of the largest privately held Microsoft Gold Learning Partners in the United States, QuickStart Intelligence has been recognized for an unprecedented three times as Microsoft's Worldwide Partner of the Year in Learning Solutions. For more information, visit http://www.quickstart.com.
###