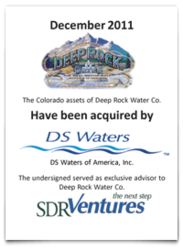 We're thrilled to see our client enter this new stage of growth with a great organization like DS Waters
Denver, Colorado (PRWEB) December 28, 2011
SDR Ventures, Inc., a Colorado investment banking firm serving as financial advisor to Deep Rock Water Co., announced that DS Waters of America, Inc. has acquired substantially all of the Colorado assets of Deep Rock.
Since 1896, Deep Rock has served the Denver and Colorado markets with high quality artesian spring water and bottled water products. Deep Rock also provides coffee delivery and water filtration services for home, office and retail customers.
"I wanted to hand Deep Rock over to a team of proven professionals that will continue to focus on preserving the brand with continued emphasis on quality, growth and exceptional customer service," said Thomas Schwein, president and CEO of Deep Rock. "I am both proud and pleased, knowing DS Waters will take Deep Rock to the next level."
DS Waters, a large bottler headquartered in Atlanta, GA, operates 28 production facilities and delivers to over one million home, office and retail locations nationwide.
According to K. Dillon Schickli, CEO of DS Waters, "I am excited to welcome the customers and associates of Deep Rock to our family of DS Waters brands. We look forward to continuing the unparalleled commitment to superior products and service that Deep Rock has had for over 100 years."
SDR Ventures served as Deep Rock's financial advisor, providing valuation consulting and transaction advisory services throughout the sale process. SDR worked to develop Deep Rock's sale strategy, communicated with potential buyers and ultimately worked to negotiate equitable terms with DS Waters.
"SDR is proud to have worked with Deep Rock throughout the process," said Andy Limes, Principal at SDR Ventures. "We're thrilled to see our client enter this new stage of growth with a great organization like DS Waters."
About SDR Ventures
SDR Ventures is a boutique investment bank serving the lower middle market, including companies with values up to $250 million. Operating beyond the confines of a traditional investment bank, SDR is reinventing the way business owners approach the market, offering transaction advisory, capital formation, strategic advisory and performance exchange services.
###