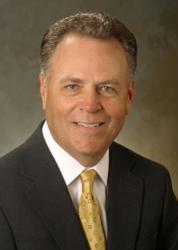 St. Louis, MO (PRWEB) December 27, 2011
Michael "Mike" Chivell, managing partner of Armstrong Teasdale LLP ("AT"), has been chosen as a "2012 Law Firm Leader" by Missouri Lawyers Weekly. The honor places Chivell among a prominent group of innovators and influencers in Missouri's legal community, according to the newspaper.
Chivell, who became managing partner in 2007, heads the firm's team of more than 500 lawyers and staff members located in six offices.
A leader with a clear perception of where he wants AT to go, Chivell oversaw the firm's move last year from traditional office space in St. Louis to the new, state-of-the-art Centene Plaza building. Centene Plaza is the region's first and only multi-tenant office that is Gold LEED certified. It is also the first Class A office building brought to market in the St. Louis region in just under a decade.
The relocation was part of Chivell's overall strategy to attract and retain clients, lawyers and staff. It has resulted in a dramatic boost in foot traffic to the firm as well as providing the additional space and technology needed to allow for the expansion of the intellectual property practice area. Over the past year, the firm has been steadily adding IP lawyers and now has over 65 making AT's patent practice the largest in St. Louis. Intellectual Property Today has also named AT one of the country's top patent firms.
Despite the disruptions associated with moving and expansion of staff, AT is experiencing some of the best performance in the firm's history thanks to Chivell's innovative management abilities and approach to financial accountability. In fact, 2010 was the third best in the firm's history and financial results for 2011 will be excellent.
An experienced corporate finance and real estate attorney, Chivell served as the 2009-2010 president of The United States Law Firm Group® (USLFG®), a network of 18 independent firms with more than 5,900 lawyers operating globally.
Chivell is listed in The Best Lawyers in America in real estate law; Missouri/Kansas Super Lawyers and Chambers USA: America's Leading Lawyers for Business in corporate mergers and acquisitions. He received his J.D., with distinction, from the University of Iowa School Law and B.A., cum laude, from Illinois Wesleyan University.
# # #