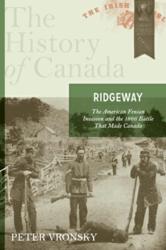 Ridgeway, a new history book by Peter Vronsky launched in 19th century military splendour by Penguin Books.
Toronto, Ontario (PRWEB) December 29, 2011
One of the more spectacular book launch parties this year was Penguin Group's launch of Ridgeway by Peter Vronsky according to Booklaunch.ca . The reception for the release of this new history book on the forgotten American invasion of Canada in 1866 was held in a regimental officers' mess and highlighted by a demonstration of historical close order drill.
Guests were wined and dined in 19th century military splendour and drink in the rarely seen Queen's Own Rifles Officers' Mess, secreted in the bunker-like Moss Park Armoury on the north-east corners of downtown Toronto's Jarvis and Queen Streets, at the book launch of Ridgeway: The American Fenian Invasion and the 1866 Battle That Made Canada by Peter Vronsky.
Hosted by Ben McNally Books and the regimental association of the Queen's Own Rifles of Canada (QOR), the exclusive event was held in near military secrecy during Remembrance Day week with only a select list of literary, media and military guests invited to celebrate the launch of a new volume in the ongoing Penguin Books History of Canada series.
Ridgeway by Peter Vronsky describes Canada's forgotten first modern battle fought on the eve of Confederation outside the village of Ridgerway near Fort Erie Canada on the border with Buffalo New York in 1866 during the Irish American Fenian invasion of Canada. Peter Vronsky argues that the modern nature of Canada was significantly shaped by the battle and the Fenian crisis but that its history became 'inconvenient' to national founding myths and was covered up to such an extent that most Canadians today have never heard of this battle, the last fought against a foreign invasion in what is today Ontario.
Significantly this was Canada's first battle fought in the post-Napoleonic modern age of steam engines, telegraph, rifled barrels, mass newspaper media, public opinion, parliamentary democracy, and the first to be fought exclusively by Canadian troops led entirely by Canadian officers. The nine Canadian soldiers killed on the morning of June 2, 1866 were from the 151-year-old Toronto regiment Queen's Own Rifles, including three University of Toronto student volunteer riflemen. They were modern Canada's first military casualties according to Peter Vronsky, an investigative historian with a Ph.d. from University of Toronto in intelligence and criminal justice history who lectures in the History of International Relations at Toronto's Ryerson University.
In his remarks at the launch, Vronsky pled the case for the nine fallen soldiers to be recognized in Canada's official Books of Remembrance and for their government-neglected graves in various locations in Ontario to be granted official Canada War Grave status and the care that goes with it.
Peter Vronsky is a filmmaker and investigative historian and the author of a bestseller history of serial homicide: Serial Killers: The Method and Madness of Monsters from Penguin - Berkley Books. Ridgeway his new book, has been described as a 'steampunkers' military history of Canada at its Confederation.
Guests at the Ridgeway launch included historian and author of Paris 1919 and Nixon in China Margaret MacMillan, co-editor with Robert Bothwell of the Penguin History of Canada series, President of Penguin Canada Mike Bryan and his wife Heather Adams, Penguin editorial director Diane Turbide, director of publicity Beth Lockley and publicist Jackie Mo, art curator Flavio Belli, film director Graeme Campbell, cinematographer Tony Wannamaker, artists Shannon Griffiths and Anna Zinato, Ryerson historians Ross Fair, Martin Greig, Tomaz Jardim, John Morgan, Joey Power, Robert Teigrob, authors David Gibb and Dave Walker, CBC documentary producer Lynn Chichakian and co-producer/co-creator of the Conspiracy Show Ron Craig, managing editor Rogers Business Online Network Don Sutton, President and CEO of the the Investment Funds Institure of Canada Joanne De Laurentiis, commanding officers of the Queen's Own Rifles and Royal Hamilton Light Infantry Lt. Colonels Peter St. Denis and Dan Stepaniuk, Queen's Own Rifles Association of Canada executives Bob Dunk, Brian Budden, Dave Lavery, John Fotheringham, Peter Simundson and a cohort of Dr. Peter Vronsky's fresh-faced history students from Ryerson University.
Ridgeway: The American Fenian Invasion and the 1866 Battle That Made Canada by Peter Vronsky is currently available in Canada and is scheduled to be released in the US in April 2012.
For more information visit http://www.booklaunch.ca
Or contact: info(at)petervronsky(dot)com or visit http://www.ridgewaybattle.ca.
Media and press inquiries can also be directed to Jackie Mo at Penguin Group (Canada) at (416) 928-2410, or (647) 449-8813, or jacqueline.mo(at)ca(dot)penguingroup.com.
###