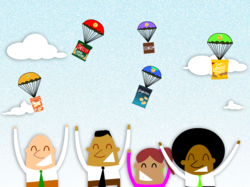 We have a vision to elevate wellness to a higher priority
San Mateo, CA (PRWEB) December 29, 2011
The Betty Mills Company® an Internet TOP 500 Retailer and the one of the nations' leading B2B suppliers of cleaning, facility, break room and office snacks today announced their Occupy-Your-Breakroom™ campaign designed to fill company break rooms with all natural and organic snacks.
The Company is asking American workers with the help of their managers to wake up their break rooms with nutritious snacking options which can be obtained free with Betty Mills Snack Rewards™, thereby remaking the break room into a wellness destination while increasing productivity and employee retention in the workplace.
Betty Mills CEO, Victor Hanna said, "We have a vision to elevate wellness to a higher priority which will lead to healthier minds and bodies and our approach begins in the office break room."
Betty Mills Snack Rewards program provides each and every customer purchase with valuable Snack Reward points redeemable for any of Betty Mills selection of nearly 2,000 snack and beverage choices, considered one of the largest selections of snacks on the internet, many of which are all natural and organic, including Back to Nature, Annie's Homegrown, Newman's Own, and hundreds more.
To illustrate the instant benefits of the program, Betty Mills released a short 60 second animated video. The program currently has no cost to join.
About Betty Mills
The Betty Mills Company® is a TOP 500 e-commerce company and one of America's leading B2B suppliers of cleaning, facility, break room and office snacks. Offering 100,000 brand-leading products shipped right to your door from over 55 U.S. warehouse locations.
With Betty Mills everyday low prices and their Double Markdown® Specials, Betty Mills offers a comfortable and easy online shopping experience for everyone who likes to buy smart and save big! Betty Mills Company's headquarter is located in San Mateo, CA. For more information, please visit http://www.bettymills.com.
###