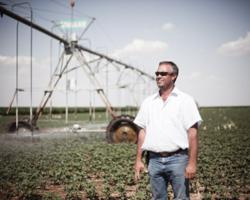 "Combining today's technology with Stoller products we're going to reach that 2,300-2,500 pound mark."
Hart, Texas (PRWEB) December 28, 2011
Cotton produced in Northern Texas by grower Steven Albracht overcame extreme heat and drought conditions with StollerUSA technology. Using Stoller's flagship product, Bio-Forge®, Albracht's cotton crops continued to grow all season reaching a 4.8 bales/acre yield.
In his second year of applying Stoller products, Albracht used applications of Stoller's Bio-Forge, Sugar Mover and X-Tra Power to increase nutrient uptake to help maximize ROI on his 600-acre cotton operation.
Albracht put the newly formulated seed treatment option, Bio-Forge ST, to the test. With no rain from March until late summer, neighboring crops started to shut down as high winds ripped through the Texas Panhandle and temperatures hovered around 100°. Albracht believes his cotton plants were kept healthier and continued to grow due to the early application of Bio-Forge. Bio-Forge, a proven crop stress management tool, enhanced root systems allowing Albracht's cotton crop to maintain health all season.
Stoller's X-Tra Power ensured early seedling vigor and Sugar Mover was used to redirect the sugars from the vegetative to fruiting parts of the plant—thus increasing boll set and size.
"I'm always trying to find something new to push my yields," explained Steven Albracht in early summer. "Combining today's technology with Stoller products we're going to reach that 2,300-2,500 pound mark." Final harvest results of 2,440 pounds of lint/acre proved Albracht's hunch was right.
"I don't care if it's a rainfall or drought – Stoller products help take some stress off of your crops," explains Steven Albracht. "Healthier plants mean bigger root systems and bigger root systems mean more yields and higher quality lint."
"No area was more stressed in 2011 than the Texas panhandle," stated Wayne Smith, General Manager of StollerUSA. "Albracht is just one of many farmers to utilize Stoller technology to meet tough conditions head on. It's technology that consistently performs, but really shines when crops—cotton, corn, soybean and many others—are under extreme stress."
StollerUSA is dedicated to helping producers enhance yields by maximizing genetic expression. The result is enhanced marketable yield, improved return-on-investment and improved tolerance to disease and other stress. Only Stoller products contain Stoller's proprietary technology that is proven to ensure optimum plant growth by maintaining appropriate hormone balance in combination with supporting nutrients. Validated by Universities nationwide, Stoller's unique formulations result in healthier, more productive crops that are better able to withstand stress and achieve their full genetic potential.
About StollerUSA
Celebrating over 40 years in agribusiness, StollerUSA markets a full line of products to help farmers increase crop yield and quality. StollerUSA, headquartered in Houston, is actively engaged in basic and practical research to enhance crop productivity in more than 50 countries.
# # #