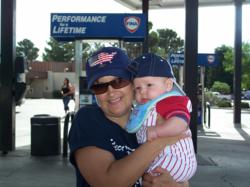 A friend from church told me about Consolidated Credit and how it worked for him. I gave it a try and it is working great. I have four out of eight bills paid.
Ft. Lauderdale, FL (PRWEB) December 29, 2011
Consolidated Credit, a national credit counseling agency and financial literacy provider, asked clients to write about how the organization and its programs impacted their money management skills, helped them to live within a budget, or assisted them in achieving a specific goal.
Paula Q. Morales, of New Mexico, won first place for her "From Divorced with Five Kids to Financially Independence" submission. Tom McGuire, of Redwood City, Calif., won second place for a heartfelt tale about how Consolidated Credit helped him pay off nearly $28,000 in credit card debt while keeping his credit score above 700. The third place winner was Yvonne Curiel of San Diego, Calif. who found herself in severe debt after getting married and creating a family. Thanks to Consolidated Credit's help after her husband was laid-off, she received lower interest rates and got penalty fees eliminated on her credit cards and now only has 10 months left until she will be debt free! All three entries can be viewed here.
"Real stories from real people are great to share with others who may be facing a similar situation who are unaware that there is help available," said Howard Dvorkin, CPA and founder of Consolidated Credit. "With our budgeting application and free online financial literature, we hope that it will be easier for people to deal with money matters and stay out of debt in the future."
"Thanks to Consolidated Credit, I learned how to properly budget and got my interest rates on my credit cards lowered to two percent compared to 27 percent," said Mr. McGuire, who stopped receiving harassing calls and emails from debt collectors only after joining Consolidated Credit's debt management program.
"The winners each receive up to $300 in gift cards, and they are being spotlighted on Consolidated Credit's personal finance blog, MissMoneyBee.com," Dvorkin said.
Contestants' stories were submitted in writing. Consolidated Credit's board of directors chose the winners based on their originality, creativity, and relevance to the contest guidelines. For more information about Consolidated Credit and to find debt help, fill out a free online debt consultation form or call 1.800.728.3632 to receive a free debt analysis from a certified credit counselor today!
About: Consolidated Credit Counseling Services, Inc., founded in 1993, is one of the nation's largest credit counseling organizations in the country and has helped over 5 million people with financial issues. Their mission is to assist families throughout the United States in ending financial crisis and solving money management problems through education and professional counseling.
# # #