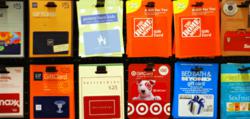 57% of retailers expect their gift card sales to increase compared to 2010
Sacramento, CA (PRWEB) December 28, 2011
With gift cards being the number one gift exchange in America, billions of dollars go unclaimed in the form of unused gift cards. GiftCardBin, an online retailer of gift cards at discounted prices based out of Sacramento California, offers a buyback program that empowers individuals with the ability to get cash for unwanted or unused gift cards.
GiftCardBin has developed a process that is not only secure, but is also exceptionally quick and convenient. GiftCardBin can pay up to 93% of the value on particular cards and transactions.
In 2010 it was estimated that $5 billion in gift card sales went unredeemed. According to the "BDO Retail Compass Survey of CMOs," 57% of retailers expect their gift card sales to increase compared to 2010, almost 5 times the proportion (12%) who predict a decrease, 31% predict no change.
"We provide a service that's an alternative to unused gift cards," states COO, John Topete. "Many individuals hold on to gift cards because they don't shop with a merchant or because they will need to come out of pocket in order to use their gift card. With the staggering number of unredeemed cards in America, we want to create awareness so consumers know they can sell their unused gift cards in return for cash."
GiftCardBin continues to streamline its buy back process to cater to its users. GiftCardBin has recently launched a new, updated site that makes the process more refined and the content easily accessible and secure. For additional information about GiftCardBin, contact John Topete (925) 335-6651.
About GiftCardBin.:
GiftCardBin (http://www.giftcardbin.com) provides industry leading gift card solutions. GiftCardBin allows consumers the ability to convert their gift cards into cash. GiftCardBin also provides their consumers with the ability to stretch their dollars by providing discount gift cards to popular merchants. Based in Sacramento, California, the company is privately held and funded.
# # #