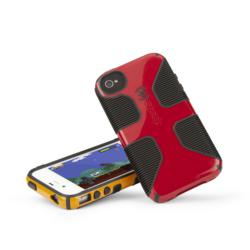 Palo Alto, CA (PRWEB) December 28, 2011
Speck, maker of fun and functional gadget cases, today released the new and game-changing CandyShell Grip case for iPhone 4/4S. Designed for hardcore gamers, texting fanatics, or anyone who wants to get a better grip on their phone, CandyShell Grip combines serious hard-shell protection with grippy texture for a responsive, tactile feel.
Also available for the iPod Touch, CandyShell Grip features rubbery finger pads on the back of the case for a more comfortable, non-slip gaming or texting experience. Strategically placed thumb-bumps are positioned for optimal screen alignment on games that use on-screen controls. And like Speck's popular CandyShell, CandyShell Grip offers two layers of sweet hard-soft protection: the durable polycarbonate shell guards against drops and impacts, while the rubbery inner lining, raised bezel and button covers provide the ultimate shock absorption.
CandyShell Grip for iPhone 4/4S is available now in four sleek, two-toned color combinations that are perfect for any gamer. To learn more about CandyShell Grip, or any of Speck's other iPad, iPhone, Android and eReader cases and covers, visit http://www.speckproducts.com.
About Speck
Founded in 2001, Palo Alto-based Speck is a leading designer of form-fit cases for the latest popular portable electronic devices. Speck is obsessed with designing cases that are just as smart and indispensable as the gadgets they protect. Founded by a group of design engineers, and located in the heart of Silicon Valley, we are captivated by technology, fanatical about our gadgets, and consumed with making products people love. Our focus on what people care about inspires us to craft cases that are a perfect fit. We make cases that don't just protect phones, MacBooks, and tablets – they also contain clever details that spark delight in our customers. For more information, visit http://www.speckproducts.com and follow Speck on Twitter and Facebook.
###