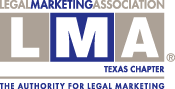 "Texas's prominent position in the legal arena makes the formation of this chapter vital for the legal marketing professionals in the state."
Washington, D.C. (PRWEB) December 29, 2011
Jaffe PR is pleased to announce that Michael Webb, Vice President of Business Development and Public Reputation Services, has been elected president of the Legal Marketing Association's (LMA) newly formed Texas Chapter. The new Texas Chapter will formally launch in January 2012 and will serve more than 100 members, with city groups in Austin, Dallas, Houston and San Antonio.
"We are excited that, in the Texas Chapter's inaugural year, Texas will be the host state of the 2012 Legal Marketing Association Annual Conference," said Webb. "Texas's prominent position in the legal arena makes the formation of this chapter vital for the legal marketing professionals in the state." Webb's enthusiasm for the event is evident in the video series he created, Countdown to Grapevine, which takes a humorous look at little-known laws still on the books in Texas.
An experienced legal marketing professional, Webb has been helping law firms and businesses stay ahead of the public reputation curve for more than 20 years. From business development and marketing to public reputation management and media relations, Webb helps clients strategize and realize tangible results. He is a naturalized Texan and recognized leader in the marketing field, having led award-winning initiatives in various industries. Webb hopes to use this legal industry knowledge in his new role and work with other board members to provide networking and professional development opportunities for chapter members. You can learn more about the Legal Marketing Association here or read more about Webb by checking out his biography here.
###