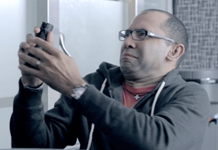 Miami, FL (PRWEB) December 28, 2011
The ADDY Awards is the world's largest advertising competition of the advertising industry in the United States, with over 60,000 entries each year.
Upstairs / Uptempo were happy to be involve in the visual effects and audio post production for the commercial "Deadline" created by the advertising agency DKP Miami, and produced by America Filmworks. The funny and unreserved commercial was design to promote and revitalize the participation of students and agencies in the Miami ADDY Awards.
This viral commercial directed by Marcelo Paez and visually enhanced by Upstairs with the lighting, animation and color correction effects, accentuated the slogan "if your concept is still alive". The audio post by Uptempo, makes the commercial come to live with all the vivid sound. All comes together to convey the whole idea of the ADDY's to present all of the ideas that survived their toughest challenges on their way to realization.
The deadline for registration is Thursday January 19, 2012.
About Upstairs
Upstairs is an award winning full-service post-production company located in Miami, Florida specializing in art direction, editing, color correction, visual effects, animation and motion graphics, sound design, audio post and original music for motion pictures, TV commercials, broadcast networks and corporations.
About Uptempo
Uptempo is an original music and audio post-production facility based in Miami, FL with services that include voice over talent, selection and booking support, pre-production, scheduling, ISDN, and dubbing services. Uptempo has a pool of musicians with backgrounds in motion picture, album recording, broadcast, and advertising.
Credits:
Client: ADDY Awards
Advertising Agency: DKP Miami
Director: Marcelo Paez
Post Production Company : Upstairs
Color Correction: Upstairs - Rudel Reyes
Visual Effects: Upstairs - Codie Yarbrough - Rudel Reyes
Original Music & Audio Post: Uptempo
###