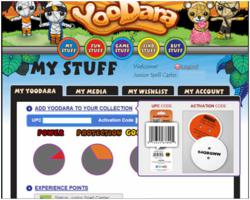 Prescott, AZ. (PRWEB) December 28, 2011
YooDara charms are handmade collectible good luck charms, offering positive messages special to each character, suitable for a variety of situations and lifestyles. Tribes of YooDara charms determine areas of good luck, including protection, good luck, power, and wisdom.
Each YooDara character comes with an attachable disk to identify their name and power. Internet access codes on each disk provide members-only access to activities on the YooDara.com website.
Dimension 9 encourages social media interaction with a strong presence on the internet with Facebook, Twitter and YouTube, asking customers to tag in social media and participate in weekly contests.
The website and social media available for YooDara good luck charms includes an interactive Legend of YooDara application that allows buyers to register their YooDara charms, play games, and send virtual good luck messages to friends; future mobile applications available soon.
YooDara good luck charms are available at specialty, gift, and souvenir shops throughout the nation. YooDara good luck charms are designed for those 13 years and older. For more information, or to find a YooDara retailer, visit http://www.YooDara.com.
###