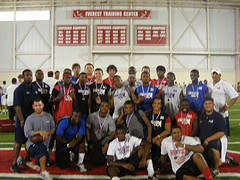 "From a recruiting standpoint, we already offer combines that consist of testing, showcases and evaluation. This is a chance for athletes to obtain another source of vital recruiting exposure." says Coach David Schuman
Mahwah, NJ (PRWEB) December 27, 2011
The National Underclassmen Combine, the most prestigious high school football testing event in the nation, is proud to announce the introduction of seven-on-seven events and the expansion of Trench Warfare Challenge in 2012.
Now, not only will skill position players have the opportunity to be tested in a variety of events, they will also be able to showcase their attributes in seven-on-seven tournaments, a good barometer of how their skills will translate to the collegiate level.
"From a recruiting standpoint, we already offer combines that consist of testing, showcases and evaluation," said David Schuman President and CEO, NUC. "This is a chance for athletes to obtain another source of vital recruiting exposure. It's the closest thing to actually being on the football filed with pads from a competitive standpoint."
The seven-on-seven tournaments will be held at each of our 90 event locations on Sundays, with analysts from the NUC, Scout.com and Rivals there to evaluate the players.
NUC hasn't forgotten about the linemen, though. Also each Sunday, the NUC will be expanding its popular Trench Warfare challenges where lineman can prove their mettle in a variety of tests.
The linemen will be put through tests of agility, strength and endurance, ranging from grueling one-on-one battles in the trenches and team-based linemen drills to traditional strength tests such as the tire throw.
"It's a great opportunity for lineman to escape the shadow of skill players and demonstrate their skills," said NUC CEO and President Dave Schuman. "In the all-important recruiting process, the extra day of football competition will be a great benefit to the athletes."
Additionally, athletes will be able to register either individually or a team for both events.
For a full schedule of dates, times and locations, visit us at http://www.combineregistration.com.
To find more information on the seven-on-seven tourneys and the Trench Warfare Challenge, visit http://www.nationalunderclassmen.com.
About National Underclassmen Combines
The National Underclassmen Showcase for Football was founded by the originators of the National Underclassmen Football Combines. Over the past five years, the NUC has led more than 3,000 athletes to division 1, 1aa, and DII scholarships scholarship offers while thousands more have gone on to play college ball. The company has taken the principle of the football showcase and is now applying it to lacrosse, bringing in the best football coaches and athletes to run the showcase, combined with the NUC's timing staff to bring the first true testing and showcase for Lax with the sole aim to get the athletes recruited for college. All events are video taped and the results will be sent to every college in the U.S. To see what NUC's done in the past, visit http://www.nationalunderclassmen.com. The company is proud to expand its program to more than 60 cities and more than 180 events throughout the U.S. Many top players have come through the National Underclassmen Combine including Baltimore Ravens QB Tyrod Taylor and Cleveland Browns DB Joe Haden. Many current top stars in college first came through the NUC including Marcus Lattimore of South Carolina, Robert Woods of USC, Aaron Murray of Georgia, Tyler Bray of Tennessee, Jelani Jenkins of Florida, Mason Walters and Dom Espinosa of Texas and many many more.
For high school football athletes who are diamonds in the rough or who play for small schools, or elite athletes looking to be seen as early as possible, Schuman's provides a forum and showcase for those athletes to expose their talents. It is their job to get that information out to college football recruiting teams nationwide. Visit http://www.nationalunderclassmen.com to find out more information.
Press Contact:
David Schuman
201-912-2212
dschuman(at)schumanspeed(dot)com
###