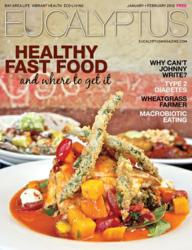 I hope that the articles in Eucalyptus Magazine will help you to feel happy, inspired, and satisfied in 2012
Los Gatos, CA (PRWEB) December 28, 2011
Eucalyptus magazine, the only lifestyle magazine that focuses exclusively on health, wellness and green living in the San Francisco Bay Area, has just released its January/February 2012 issue. Feature stories include pieces on healthy eating on the go, education issues and Type 2 diabetes. The Food department explains the macrobiotic diet. The Green Tips section gives suggestions on making the household environment cleaner and greener. The new issue of Eucalyptus is now online at http://www.eucalyptusmagazine.com/JanFeb12 and available from over 350 Bay Area merchants.
"I hope that the articles in Eucalyptus Magazine will help you to feel happy, inspired, and satisfied in 2012. My sincere wish is that our magazine will spark new energy for you and lead to positive changes in your life," said Michaela Marek, publisher and founder of Eucalyptus.
One feature story on quick and healthy eating profiles four South Bay eateries that prove fast food doesn't have to be junk food. LYFE Kitchen in Palo Alto is the brainchild of a former president and COO of McDonald's who saw a great need to make fast-and-healthy options available. The popular eatery, which bans butter, cream and high-fructose corn syrup, brings the efficiency of fast food together with green ideas like locally sourced ingredients, LED lighting, and recycled furniture. Aqui Cal-Mex, a fusion restaurant with multiple South Bay locations, uses many organic and non-GMO ingredients, and reduces waste with recyclable "to-go" containers and biodegradable utensils. The piece also profiles Pluto's, a favorite among picky eaters for salads and sandwiches, and The Loving Hut, the world's fastest-growing vegan chain.
Another feature article on educational deficiency sheds light on the struggle many California kids have with reading and writing. Growing class size, underfunding, and the "teach to the test" mentality are some of the reasons literacy rates are in stagnant. The piece explores the important role parents' emphasis on reading plays in their kids' literacy levels, and discusses whether computers in the classroom are more helpful or harmful.
The new issue also tackles the rising rate of Type 2 diabetes, a serious but avoidable condition that has become alarmingly commonplace. The disease's health effects, which may include high blood pressure, impaired vision, and heart disease, are strongly associated with another epidemic, obesity. The article explores measures taken by local health professionals to get patients more involved in the treatment and prevention of Type 2 diabetes. Dieticians teach patients to eat more vegetables and lean protein and eliminate empty carbs. Screenings are offered to at-risk groups to catch it early. Regular exercise and stress management are also key to managing diabetes.
The Food department explores the benefits of macrobiotic eating, a diet founded in Japan that starts with base of complex carbs and vegetables and adds limited amounts of fish, fruit and nuts. Adherers view the macrobiotic lifestyle as more than a diet; it's also a mental and spiritual path that emphasizes the search for balance.
As people spend more time indoors during the winter, the Green Tips section focuses on making the home healthier. Choosing furniture made with solid reclaimed wood, paints and stains with low- or no-VOCs, and candles made from beeswax or soy will improve the ambiance and clean up the air. Green Tips also air on two radio stations: MIX 106.5 and 94.5 KBAY.
In honor of the January/February 2012 issue, Eucalyptus is offering a subscription sale: 50% off a one-year subscription. Subscribers can get 6 issues for only $12. More info at http://www.eucalyptusmagazine.com/subscribe.
For more information about the January/February issue of Eucalyptus, or for information about any of Eucalyptus magazine's products or services, call (408) 335-4983 or visit http://www.eucalyptusmagazine.com.
About Eucalyptus
Eucalyptus is the San Francisco Bay Area's resource for green and health-conscious lifestyles. Through the print publication, website and networking events, Eucalyptus shares knowledge and inspires readers to celebrate their health, support local businesses and surrounding communities, and protect the environment. Since its first publication in 2009, Eucalyptus has been well received by the health-conscious and green living community and industry. Eucalyptus is the winner of the 2010 Apex Awards for Publication Excellence for green publications and the 2010 Gold MarCom Award for green publications. The magazine is available at over 350 locations in the Bay Area and online at http://www.eucalyptusmagazine.com.
###