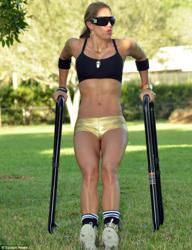 Late Breaking Photos of the Creator of the JNL Fusion Workout Method Jennifer Nicole Lee Proves that She is Dedicated to Her Fusion Fitness Method, Exercising Even During the Holiday Off Season
Miami, Fl (PRWEB) December 28, 2011
Jennifer Nicole Lee's latest paparazzi photos to date show her exercising in a public Miami park, training a VIP client in her JNL Fusion method. Known by her worldwide fans as JNL, she showed off a super tight and toned physique, which she explains is the results of her JNL Fusion workout method. Once a fat and frumpy housewife, JNL fell in love with fitness after the birth of her children, helping her to shed over 80 lbs. revealing a super athletic, sleek and sexy physique. Then she went on to create an effective workout method, allowing her to get maximum results in minimum time. Being busy mom, JNL needed a workout formula curtailed for busy women that would give them a super fitness model body, with broad strong shoulders, a cinched in waistline, with sexy toned cellulite free legs. So she would train for only 45 minutes, performing a total of 6 circuits, consisting of a strength movement, followed by a cardio burst which would super spike the metabolism.
This JNL Fusion method has been so super successful that it's been the cause of countless weight loss success stories, and is now a highly sought after certification method. Now it has been produced into a complete exercise DVD series, which will be launching world wide and sold via infomercial and online website sales.
Jennifer Nicole Lee has many trademark sayings and catch phrases that she uses to motivate her clients with, such as "Strong is the New Skinny", "Kiss My Abs", "Glutes That Salute", "TNT" and also "never give up, never give in, and always train to win".
The next big fitness World Conference JNL will be hosting is the 2nd Annual JNL Fusion Certification Program, held at a private resort for her exclusive attendees coming in from every corner of the globe.
For more info, visit http://www.JenniferNicoleLee.com and also http://www.JNLFusion.net
Full story here http://www.dailymail.co.uk/tvshowbiz/article-2079216/Jennifer-Nicole-Lee-works-Miami.html
###