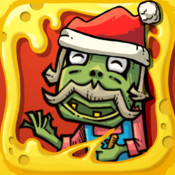 Seoul, Korea (PRWEB) December 28, 2011
Pudding Games, a Vanilla Breeze brand, today is pleased to introduce ZomPizza 1.1.2 Free for iOS, an update to their time management game, where players must successfully operate a pizza shop where they correctly and quickly fill orders for pizzas and drinks from zombie customers. Players must add the right ingredients and toppings to each pie, cook it the proper time, dispense drinks, and serve the customer before he loses his temper. The fast paced game features 20 stages, 7 different types of zombies, and various pizza recipes. The number of customers waiting plus the number of toppings and drinks, all increase at higher levels.
Zombies have invaded the town, and they are hungry for pizza, not brains. But they are temperamental customers, so players must rush to get every order right and delivered to the waiting customer on time. Players start by taking the zombie's order, which is a picture of the finished pizza. The player must recognize and duplicate the sauce and cheese plus all the toppings requested. Tapping the ready-for-the-oven pizza puts it into the oven, where a timer measures how long it should cook. Tapping the oven removes the pie from the oven, and tapping again serves it to the customer. But don't forget the drinks! Zombies are not forgiving of mistakes.
Feature Highlights:

5 Episodes with 12 levels of play each
Take orders as fast as possible
Cook each pizza correctly - not too long or too short a time
Remember to include all the ordered toppings
Move quickly between the kitchen and the counter
Add ovens to increase output
Temporarily store finished items until the order is complete
Game Center Leaderboards
Integrated Facebook, Twitter, email connectivity
Send the game as a Gift
"Zombies have invaded your town, but hold your chainsaw! They are asking for scrumptiously delicious pizzas, not brains," commented Derrick Edwards for Vanilla Breeze. "This is highly addictive, best-of-the-breed time-management action tycoon game, featuring a unique blend of gaming styles, excitement and sophistication. Once you have started, you can't stop!"
Device Requirements:

iPhone, iPad, or iPod touch
Requires iOS 4.0 or later
25.5 MB
Pricing and Availability:
ZomPizza 1.1.2 is free and available worldwide exclusively through the App Store in the Games category. Review copies are available on request.
ZomPizza 1.1.2
http://vanillabreeze.com/
Download from iTunes
http://itunes.apple.com/app/zompizza/id475986859?mt=8&partnerId=30&siteID=Ou1uIiliudA
Screenshot 1
http://a3.mzstatic.com/us/r1000/066/Purple/52/ea/c7/mzl.qlrssxhj.320x480-75.jpg
Screenshot 2
http://a4.mzstatic.com/us/r1000/091/Purple/a0/6a/20/mzl.okbvhrum.320x480-75.jpg
App Icon
http://a2.mzstatic.com/us/r1000/101/Purple/eb/d1/55/mzl.mkzdjfqn.175x175-75.jpg
Based in Seoul, Korea, Vanilla Breeze was established in October 2008 and develops and publishes quality games and applications on all major mobile platforms. They are dedicated to combining creative ideas with new mobile technologies to deliver unique, fun, and engaging user experiences. Vanilla Breeze self-publishes most of its apps and games to the global mobile marketplaces, and they also help foreign app/game developers penetrate into the Asian market. Copyright (C) 2008-2011 Vanilla Breeze, Pudding Games, Whale Interactive. All Rights Reserved. Apple, the Apple logo, iPhone and iPod are registered trademarks of Apple Inc. in the U.S. and/or other countries. Other trademarks and registered trademarks may be the property of their respective owners
###