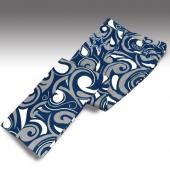 The Dallas Cowboys tap Loudmouth Golf to design a new line of official Cowboys apparel.
San Francisco, CA (PRWEB) December 29, 2011
The Dallas Cowboys, one of the world's most recognizable sports franchises, announced a new collaboration with Loudmouth, the leading brand in colorful sports apparel. Together, Loudmouth and the Cowboys have created a winning spectator pant and short for Cowboys fans everywhere.
The exclusive Dallas Cowboys pattern, "Cowboy Splash" is now available online in Loudmouth's Made-To-Order line of pants and shorts. Fans can select from four different pant profiles: Regular, Easy-Fit Waist, Par 5 (jean cut), and the groovy Euro-fit. And for the ladies, Loudmouth offers Cowboys Cheerleader-style mini-shorts.
Loudmouth, which built its brand creating unique clothes for golfers including PGA and LPGA professionals, has expanded to other fashion segments including snow and swimwear to satisfy the demands of sports enthusiasts worldwide.
"There is great synergy in joining forces with America's Team, the Dallas Cowboys," says Larry Jackson, CEO of Loudmouth. "With the Loudmouth Cowboys pant, fans will enjoy a more convivial game day at Cowboys Stadium, in the parking lot, or at a party," adds Woody, Loudmouth Chief Designer and Founder.
"Ever since I was 4 years old, I've loved the Cowboys," says two-time major winner, John Daly. "I've been close with Jerry Jones and his family for a long time, so to have a Loudmouth clothing line inspired by the Cowboys is exciting for all of us. I can't wait to proudly wear my Cowboys sport coat and slacks on tour," adds Daly.
"We are always looking for innovative brands to partner with and Loudmouth was the perfect fit to offer new and exciting products for our fans," says Bill Priakos, COO of Dallas Cowboys Merchandising.
The Loudmouth Dallas Cowboys pants and shorts will be available at Cowboys stadium and the Cowboys Club golf course. Fans can purchase the pants today on the Loudmouth Golf website at http://www.LoudmouthGolf.com
About Loudmouth Golf:
Founded in 2000, Loudmouth is recognized as a leading brand in outrageous and fun apparel for men and women. The line features bright colors in striking patterns in pants, shorts, shirts, skorts, jackets, belts, snow pants and more, all designed by the founder, Woody. Loudmouth provides personal customer service and quality products that people love to wear.
Loudmouth is worn by many athletes including two-time major winning golfer, John Daly and other PGA and LPGA professionals; the Vancouver Winter Olympic Silver Medalists, the Norwegian Men's Curling Team; And professional extreme snowboarder Martin Gallant. You can also find Loudmouth suits on the red carpets of Hollywood.
Loudmouth products are sold worldwide at many shops and also available online at http://www.loudmouthgolf.com.
Loudmouth Press Contact:
Cassie Kovacevich
Cassie(at)loudmouth(dot)com
214.642.1924
###