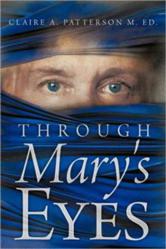 Cincinnati, OH (PRWEB) December 29, 2011
A recent MSNBC.com article – "Bible's authors decoded by computer" – relays a story on a computer algorithm tasked with analyzing the Bible with the intent of revealing new information about its authors. This algorithm may reveal new insights into our understanding of the historical aspects of the Bible, but, to Christians, the Bible is not a static text for computers, historians and scientists to figure out. In her relationship with the Bible, Claire Patterson was inspired to consider the untold aspects of Mary's – the mother of Jesus – life. She is proud to deliver her new fictional account of Mary's last days on Earth in "Through Mary's Eyes" (published by WestBow Press).
It is 15 years after the death of Jesus, and Mary is living out her last days on a hillside outside of Ephesus. Paul and Peter are in prison and Luke, John and others are trying to arrange for their release. While waiting, Mary tells stories of her life to any who will listen. She encourages faithful Christian listeners and even converts nonbelievers who hear her stories.
Mary offers her unique perspective as Jesus' mother, revealing new insights into many familiar biblical stories, including the birth of Jesus, the time Jesus spent in the temple during his adolescence and the miracle Jesus performed when he turned water into wine.
Although her book tells the story of Mary's last days on Earth, Patterson still views it as a hopeful and uplifting story. She says, "It is a book that will increase prayer life and faith…it answers questions left unanswered by the gospels."
About the Author
Claire Patterson M.Ed. has had a devotion to the Blessed Virgin since before she could read, but until her trip to Medjugorje, she never realized how much a part of her life Mary really is. That pivotal trip, plus a pilgrimage to the Holy Land five years later, helped to shape this book. Patterson is a retired school administrator and keeps busy with her granddaughter – Ella Claire – volunteer work, consulting jobs, writing and traveling. She lives with her husband, Calvin, in Cincinnati. Together they lead a rosary group and make presentations about Mary's constant presence in their lives.
WestBow Press is a strategic self-publishing alliance of Thomas Nelson, the world's premier Christian publisher, and Author Solutions, Inc. (ASI)—the world leader in the fastest-growing segment of publishing. Through this partnership, authors benefit from the rich publishing heritage of Thomas Nelson and the speed-to-market advantages of the ASI self-publishing model. Titles published through WestBow Press will be evaluated for sales potential and considered for publication under the Thomas Nelson imprint. For more information, or to start publishing today, visit westbowpress.com or call 866-928-1240.
###