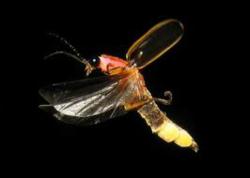 EurekaMag.com - BioSciences
Mannheim, Germany (PRWEB) December 29, 2011
The BioSciences Website EurekaMag.com publishes articles in all areas of the natural sciences including biology, agriculture, horticulture, forestry, geography, environment and health. Drawing from this pool of scientific disciplines, it publishes articles, reviews and insights on biological topics including those which have recently attained attention. While the BioSciences Research category contains over 36 million references, most of the reviews are included in the BioSciences Keyword Category, the BioSciences Keyphrase Category and in the BioSciences Reviews Category of the online science magazine. All content is now available on a user-friendly and fast Mobile m.EurekaMag.com Website.
The EurekaMag.com review of the firefly covers these winged beetles which chemically produce light from their lower abdomen. Light production in fireflies is due to a chemical reaction called bioluminescence. This process occurs in specialized light-emitting organs on a firefly's lower abdomen. The enzyme luciferase acts on luciferin, in the presence of magnesium ions, ATP, and oxygen to produce light. The EurekaMag review expands on the firefly luciferin-luciferase system: ATP reacts with glycerol and glycerol kinase and crude luciferase produces a linear relationship between bioluminescence and ATP concentration. The firefly luciferase gene is extensively covered in this review due to the unique qualities of the firefly luciferase system allowed scientists to monitor regulated gene expression in real time in individual multicellular organisms. In one experiment a transgene was constructed in which ZP3 gene sequence was fused to the coding region of the firefly luciferase gene, and four independent lines of transgenic mice were generated. In another experiment where a plasmid in which the firefly luciferase gene was controlled by the human beta-actin promoter was introduced, luciferase activity was detectable for up to fourteen days in mouse skin and liver. A computer-generated burst of simulated firefly flashes was used to trigger a firefly flash burst. The authors of this trial found that the interflash interval in fireflies does not change its length, making it similar to the Southeast Asian synchronizer Pteroptyx cribellata and different from Pteroptyx malaccae, which can change its interval.
Eurekamag.com presents a review on synapses which are structures in the nervous system that permit neurons to pass an electrical or chemical signal to another cell. It covers the reception of functional innervation from specific spinal nerves by muscles. Recordings from muscle nerves during excitation of individual spinal nerves gave results similar to the tension recordings, indicating that even at early developmental stages muscle nerves do not contain substantial numbers of inappropriate axons. Most limb muscles or primitive muscle masses thus become functionally innervated at the same time with no clearly defined proximo-distal sequence of limb innervation. While the majority of the varicosities did not synapse on the muscle fibres, terminals containing small agranular vesicles occasionally formed specialized neuromuscular contacts. Other research has isolated a Caenorhabditis elegans gene, which encodes a meiosis-specific component of chromosome cores with some similarity to a yeast lateral element protein. Antibodies raised against the Caenorhabditis elegans gene localize the protein to condensing chromosomes in early prophase I and to the cores of both synapsed and desynapsed chromosomes. In RNA interference experiments, chromosomes appear to condense normally in the absence of detectable protein but fail to synapse and form chiasmata, indicating that the Caenorhabditis elegans gene is essential for these processes.
The EurekaMag.com review of Lotus covers the aquatic perennial plant commonly cultivated in Southeast Asia for its edible seeds and rhizomes. The review covers "snow lotuses" which have been used as famous traditional Tibetan medicine to treat different diseases for many years. Due to intensive collection and trading of "snow lotuses" these important alpine plants have been endangered. Classification of Lotus based on their nucleotide sequences is another topic of the review. The authors identified 652 nucleotides and comparison of their pairwise sequence indicated that ITS sequence divergence ranged from zero to six percent among Korean lotuses and ranging from nine to twelve percent between Korean and Chinese lotuses. Variations in sequences were attributable to substitution such as transition and transversion or deletion events. Based on dendrogram inferred from ITS sequences, Korean lotuses and a Chinese lotus were definitely divided. All nine used lotuses were diverse, although they differed between themselves by the quantity of genotypes. The statistical processing showed 55 individual genotypes in a group of 81 examined strains, which denoted a high discriminative potentiality of the typing system. On the basis of the cluster analysis, the genotypes were shared between eleven main groups. The strains belonging to one genotype group were found to originate, nevertheless, from one natural focus.
The Science Magazine EurekaMag.com was launched in November 1998 as the online version of the French science magazine "Eurêka - Le magazine des sciences" published since 1995. During the past decade, it has emerged as a comprehensive aggregator of information on biology, on the applied life sciences agriculture, horticulture and forestry, on the earth sciences, on the environmental sciences, and on the health sciences.
The Science Magazine has recently been accredited by the Chinese Ministry of Industry and Information Technology with the Internet Content Provider (ICP) Number 10204677. The site delivers its content through a number of RSS feeds including a "Most Shared Content" RSS Feed and an @EurekaMag Twitter account. The @EurekaMag Twitter account currently features 46,520 tweets and 888 followers. The site also provides an EurekaMag.com portal for mobile viewing at m.eurekamag.com. The Global Alexa Traffic Rank of Eurekamag.com is currently 779,933. The online traffic can now also be watched in real time using a EurekaMag.com "Life Traffic Feed" and a "Real-Time View". The site accepts advertisements through the Google AdWords system.
###