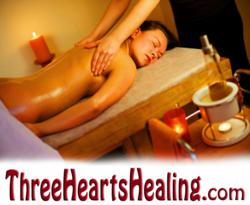 Bozeman Massage Therapist Gets Certified for Ayurvedic Therapy
Bozeman, Montana (PRWEB) December 28, 2011
Bozeman massage therapist Tamara Faust of Three Hearts Healing is now accepting appointments for Ayurveda massage therapies. At Three Hearts Healing, the client receives stress relief therapies under the guidance of Thai massage and Ayurveda practitioner life-style recommendations and stress management techniques. It is well accepted that stress is the greatest threat to the well being of people.
Ayurveda, the "knowledge of life", is the traditional healthcare system of India. It is based on the idea that a life of harmony is the basis for all optimum health. Ayurveda believes that where there is harmony there is health and where there is disharmony there is disease. Thus, Ayurveda is the science of creating harmony between a person and their environment. Ayurvedic massage incorporates three different personalized styles of alternative therapy. therapies involve the use of specialized massage, oils, and herbal steam therapy.
Ayurveda, and its sister science Yoga are a path to personal power helping people learn how to gain control over the mind.
After a six-month journey to India and Thailand in 2006, Tamara returned to the U.S. honoring the calling to share the wisdom of yoga, meditation and healing arts. in 2007, Tamara completed her yoga teacher training certification with CorePower Yoga, a vinyasa yoga school influenced by the traditions of Patabhi Jois' Astanga yoga system, Baron Baptiste Power yoga and Bikram yoga.
Ayurvedic Body Therapists work with individualized and personalized therapies for the imbalances present in the person based on the nature of the imbalances. Ayurvedic therapy is popularized throughout clinics and health spas around the world and now available through a certified Bozeman Massage Therapist. Certification as an Ayurvedic Body Therapist involves the completion of an intensive Foundations Course in Ayurveda as well as a 5 days of intensive hands-on Ayurveda.
Tamara has studied and practiced both traditional and modern approaches to yoga and massage as a path of transformation and healing since the turn of the century. She recently enabled online booking on her site powered by scheduleicity or can be contacted by calling at 1-406-599-6145. For more information on Tamara or Bozeman massage therapy options visit http://www.ThreeHeartsHealing.com
###