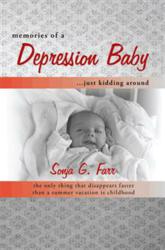 Rowlett, TX (PRWEB) December 29, 2011
The early 1930s wasn't a pleasant time for many, with the Great Depression and World War II disrupting the lives of millions of Americans. Author Sonja G. Farr however didn't let these trying times get to her. In her new memoir "Memories of a Depression Baby … Just Kidding Around: The Only Thing That Disappears Faster than a Summer Vacation Is Childhood" (published by WestBow Press), she paints a vivid description of surviving as a kid growing up during the Great Depression.
While times were hard, children always found a way to amuse themselves in spite of the difficult conditions. "There was very little money to spend on entertainment, so we devised our own methods of amusement," explains Farr. "There were no televisions, cell phones, video games, iPods, etc. We didn't even have electric typewriters, but we thought we had it all. We just didn't know any better."
An excerpt from "Memories of a Depression Baby" – Grandad's Farm:
Another treat at the farm was the deep creek at the back of the property. I didn't get to go down there often and never alone, because of my young age. But I did get to go with the adults and cousins sometimes to watch them fish. I wasn't old enough to catch a fish by myself, so most of the time when the fishing was going on, I stayed back at the farmhouse. I wasn't disappointed, though, because I liked to watch my grandmother cook on that big old black stove in the kitchen anyway. It was a great delight to sample those fresh foods and delicious ham that came from that farm kitchen, provided by the labor of my grandparents. One of grandmother's biscuits was almost a meal in itself, but the slice of ham and fresh corn on the cob smeared with butter could not be matched anywhere. All that was washed down with fresh milk from their cow or sweet water from their well. Are you hungry yet?
In "Memories of a Depression Baby", Farr shares a number of touching and fun stories from her younger years. Readers will learn valuable lessons as they read of three kids who never gave up trying to have a happy childhood in spite of adverse situations such as the Great Depression and World War II.
About the Author
Sonja G. Farr lived through the Great Depression. She managed to survive due to a strong Christian upbringing in a close-knit family unit. Farr grew up in a large city but now lives in a small town in Texas, close to her daughter and grandchildren. She is a former bank officer and small business owner, and is now filling her retirement years writing about past personal experiences.
WestBow Press is a strategic self-publishing alliance of Thomas Nelson, Inc., the world's largest Christian publisher, and Author Solutions, Inc. (ASI) — the world leader in the popular self-publishing industry segment. Through this partnership, authors benefit from the rich publishing heritage of Thomas Nelson and the speed-to-market advantages of the ASI self-publishing model. Titles published through WestBow Press are evaluated for sales potential and considered for publication under the Thomas Nelson imprint. Thomas Nelson, Inc. continues to "inspire the world" with distribution of products in more than 100 countries worldwide. For more information, or to start publishing today, visit http://www.westbowpress.com or call (866)-928-1240. Follow us @westbowpress on Twitter for the latest news.
###