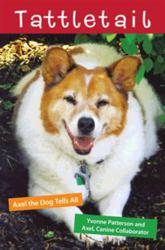 CHINA GROVE, N.C. (PRWEB) December 29, 2011
In her new book Tattletail: Axel the Dog Tells All (published by CrossBooks), author Yvonne Patterson and Axel, her canine collaborator, create a touching tale showcasing the benefits of having a loving relationship with God, told through the pet's perspective.
When asked about her inspiration for Tattletail, Patterson explained that several years ago she received a Christmas letter written from the point of view of her niece's two dogs. "I liked the idea so much that our dog, Axel, wrote our Christmas newsletter every year (with a little help from me)," says Patterson.
Tattletail is the humorous and heart-warming story of a dog and his family, as told by the canine companion. It is a tale of love and forgiveness, tragedy and triumph and insights into the Christian lifestyle. Patterson's tale teaches readers a number of religion-based life lessons.
An excerpt from the book:
"What's wrong boy?" Jeremy asked. He reached over and patted my furry little head. "Don't worry, Spike. I'll take good care of you," he promised. Jeremy kept his promise, but I never saw my brother Bear again. I still wonder to this day if he is alright.
Over the years, I have learned there is a friend who sticks even closer to us than a brother. His name is Jesus, and He is the best thing that ever happened to my family and me.
Patterson also incorporates a number of food recipes within her book for readers to try. "Like Duke in the Bush's Baked Beans television commercials, Axel also shares many of the family's treasured recipes with readers," she adds.
Tattletail shows readers how a person can come to know Jesus as his or her Savior and living the Christian life. "With God, all things are 'pawsible,'" Patterson says.
About the Author
Yvonne Patterson recently moved to China Grove, North Carolina from Ohio, where she lived most of her life. She has been married to her husband Mike for over 40 years. They have two adult sons and daughters-in-law, four step-grandchildren and six great-grandchildren. Patterson attends First Baptist Church of China Grove, where she enjoys singing in the church choir and serving on two women's mission groups. She is also the author of eight children's books, as well as several newspaper, newsletter and magazine articles.
CrossBooks, a division of LifeWay Christian Resources of the Southern Baptist Convention, is a Christian publishing imprint committed to bringing more Christian voices into the publishing industry. Established authors, first-time authors, and authors anywhere in between can meet their goals and fulfill their vision for their books by publishing with CrossBooks. CrossBooks' innovative style of publishing blends the best of traditional and self-publishing. While our authors contribute monetarily to cover the cost of publishing, we maintain a strict moral and quality standard that every manuscript must meet for us to publish. For more information on publishing your Christian book with CrossBooks, log on to crossbooks.com or call 1-866-879-0502.
###