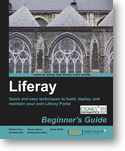 Birmingham, UK (PRWEB) December 28, 2011
Liferay Beginner's Guide Packt's recent offering on Liferay Portal, is aimed at programmers who want to create a web site using Liferay Portal. Written by Robert Chen, Sandeep Nair, Samir Bhatt, Mahipalsinh Rana, Gaurav Barot , this book equips readers with no prior technical knowledge of Liferay to confidently install ,run, and customize along with basic maintainence a new installation.
Liferay Portal is the leading open source enterprise portal, available under the GNU Lesser General Public License. Including a built in web content management system as well as multiple social collaboration services, it is used in diverse situations often to power corporate intranets and extranets and external websites. Liferay Portal is Java based but supports multiple scripting languages, and runs on multiple computing platforms, web containers, operating systems and databases. Liferay has a very large community with roughly four million downloads and 350,000-500,000 worldwide deployments.
The Liferay Beginner's Guide begins with basic instructions for installation and then details the configuration and use of a MySQL Database. Readers will also learn to customize the look and feel of the portal by applying themes, and how to change layouts and site URLs. Additionally, readers will learn how to create communities and organizations within the portal, and how to manage users and roles.
Using this book, readers will learn the basic steps in leveraging the web content management system in Liferay and how to use it to publish content to portal pages and community pages using out of box and custom portlets. The book also shows how to leverage social collaboration applications within the portal and a basic description of how to configure an online store. Finally, the book will end by creating a fully operational Liferay portal.
The Liferay Beginner's Guide is loaded with practical examples, screenshots, and step-by-step instructions for even those readers with no prior knowledge of Liferay. However, basic programming experience is required. The book is also a useful read for experienced Liferay portal programmers who need to get up to speed with its latest features. It is available now! For more information, please visit : http://link.packtpub.com/YD5Ozt
###