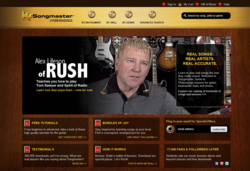 While the economy is slow to recover, maybe Songmaster can launch hobby guitarists into a new profession. How about rock star?
Jupiter, FL (PRWEB) December 29, 2011
Maybe the economy isn't recovering, but Songmaster's new website can advance musical skills for a new profession. How about rock star?
Songmaster, based in Jupiter, FL, acquired iVideosongs late last year. Privately held and funded, the start-up has since been hard at work on its visionary plans to change how, when, where and how quickly one learns to play that dusty old guitar.
"There's a need for a Rosetta Stone for grown-up musicians," said Songmaster's chairman, Tim Gilbert. "Kids can go onto YouTube to figure out a simple Justin Bieber song. Parents still put fifty bucks on the piano every week for the tutor to turn them into a musician. But the adult and young adult musicians are unserved. They need the joy of playing in their lives, just like exercise. But no one has time or patience to find the right tutor and live with the tutor's office hours. The lesson must be on demand, inexpensive, highly accurate, and high quality, or it's just not worth the time."
Songmaster believes those criteria are impossible to meet for tutors, educational institutions or retail music stores. Also, resources found on the Internet aren't really lessons, says Gilbert. "It's online sheet music, and you just don't feel you're getting ahead" by staring at chords and lyrics. So, the company is moving quickly into online and then mobile and interactive instruction, selling just one song, or bundles of songs strategically mixed with tutorials, for musicians on the move.
Meanwhile, the company is busy executing its mission with R&D for even richer levels of interactivity for guitar players. Songmaster won't say much more about the specifics, except "grown-ups need to play instruments, too." Until then, master major acts from Alice Cooper to Third Eye Blind, online 24/7/365 in the comfort of your own home.
###