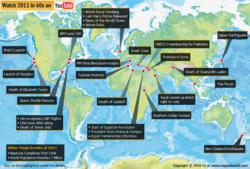 What would you 'Remember 2011' for?
San Jose, CA (PRWEB) December 29, 2011
What would you 'Remember 2011' for? That's the question Mapsofworld.com is asking these days. One of the leading online resources in maps and educational content, Mapsofworld.com, has compiled the most resonant events of 2011 in a neat, interactive package. Categorized by topic of interest and by month, the Remember 2011 section is now open to public voting.
In Remember 2011, Mapsofworld.com has made best use of its two key strengths – cartography and informative content. Each event is accompanied by a beautifully designed graphic map highlighting the key dates and the sequence of the event. Perfectly matched photos and concise texts make the maps a delight to watch.
Supplementing the Remember 2011 section, Mapsofworld.com has launched the one minute video of key global events of the year. The video is a sixty second roundup of 2011 events which dominated the headlines in 2011. A good reference resource.
The voting system for the Remember 2011 section is pretty snazzy. Each of the sections – Business, Natural Disaster, Politics, Science and Technology, and People and Society – allows for one vote for one event every day. The rankings and statistics are changing by the hour.
About the website:
MapsofWorld.com is a multilingual portal offering high-quality maps and information across geographies and platforms. With special focus on educational content, the portal has thematic as well as interactive maps on all major platforms: Web, iPhone, iPad, iPod, and Android. World Atlas and World Quiz are two highly successful educational apps, having seen more than 100,000 downloads already. Other services offered are custom mapping, content digitization, and the online map store.
For more information, please contact:
MapXL Inc.
10 S, Third Street, Suite 310,
San Jose, CA 95113
mani(at)infobase(dot)in
http://www.mapsofworld.com
###