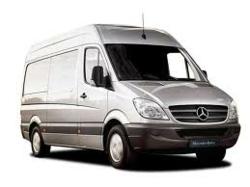 "Our decision to use high-end vans as opposed to the standard minivan was based primarily on safety,"
Port Charlotte, FL (PRWEB) December 29, 2011
Air Critical Care Medlink, headquartered in Port Charlotte, Florida, announced today the company's expansion of its current ground medical transport fleet of service vans with the purchase of a new 2012 Mercedes Benz Sprinter Passenger 2500 van further strengthening the company's commitment to long distance medical transport services.
The Sprinter's interior is custom configured with a stretcher and a bed, allowing the option to transport up to three patients. With its spacious design, the van allows plenty of room for the company's highly-qualified team of medical professionals, as well as additional space for a minimum of two stretcher patients.
"Our decision to use high-end vans as opposed to the standard minivan was based primarily on safety," said Michael Peat, Managing Partner of Air Critical Care LLC. "As a leader in long distance medical transport services, we strongly believe that the minivan is too small to safely transport patients any distance. In addition to highly-experienced drivers, we also provide a dedicated care giver to assist the patient ensuring access to the patient on all sides all of the time to provide proper care, that you can't do in a minivan."
According to Peat, the new van is configured to meet or exceed the stringent regulations set forth by the Department of Transportation [DOT], as well as the American Ambulance Association Standards. The Sprinter will be outfitted with built-in beds, along with the industry's preferred Stryker Power PRO XT ambulance cots which support the standards for ergonomics and superior performance expected of a professional medical transport service company.
"We will receive our new van in January of 2012 starting the New Year with a greater commitment to patient safety as well as patient comfort," said Peat. "The van also includes a full size TV/DVD system while offering the patient the same level of comfort as a hospital room."
According to Peat, ACC Medlink will maintain its fleet of large Ford extended vans which will be dedicated to the local, shorter medical transports.
In November, Air Critical Care announced the addition of new ultrasound equipment for high-risk obstetric patients further expanding its HROB services after the recent appointment of Blane M. Crandall, MD, who leads the ACC Obstetric Emergency Transport team. As the leader in medical transportation and air ambulance services, Air Critical Care [ACC] offers service 24/7 throughout the U.S., with the support of a network of offices including medical transport in Illinois, New York, and Florida. In addition to air ambulance, ACC provides medical escort services and commercial stretcher services on international flights.
For more information about Air Critical Care Worldwide Air Ambulance or ACC Medlinks click here: medical transportation services or call toll free at 800-550-1025.
# # #