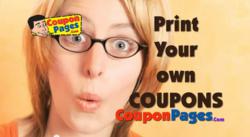 Our traffic has increased dramatically since running our new Cable TV spots.
Staten Island, NY (PRWEB) December 28, 2011
CouponPages.Com has seen it's traffic increase tenfold because of an effective national cable TV campaign that focuses on the value of printable coupons.
"The theme of the commercial is 'Real Coupons' because we're in a market flooded with deal of the day web sites like Groupon and LivingSocial that give people the impression that they offer coupons... but they don't", said Joe Crescenzi, founder of CouponPages.Com.
"Those sites are not offering real coupons; they sell gift certificates that you have to pay for up-front. Our coupons are real coupons; you just print them and bring them to local merchants... and they're free!"
The commercial has been aired over 2000 times so far on Fox Business Network, Great American Country, Sleuth, Animal Planet, National Geographic Wild, SOAPnet, CNBC, OWN (the Oprah Winfrey Network), Nickelodeon, Comedy Central, HDNET, TV Land, CNN, Food Network, Fox News, ABC Family, Bravo, SyFy, Golf Channel, RFD Network, Weather Channel, Oxygen, Bloomberg Business Television, AMC, Lifetime, USA, etc.
Here's the script of the newest commercial:
"Hey, wouldn't it be great if you can print your own money?"
"Well, you can't do that... but did you know you can do the next best thing by printing your own local coupons at CouponPages.Com"
"Yes, CouponPages.Com is one of the ONLY sites online devoted exclusively to printable local coupon pages. Yes, these are the kinds of coupons you print yourself and you bring them to the stores and you save money. CouponPages.Com... REAL Coupons."
CouponPages.Com is one of the oldest and largest printable coupon sites that features printable coupons from local merchants. 100% of the coupons on CouponPages.Com are printable. The site does not feature "Coupon Codes" that are used to buy things online. "Every coupon on the site is a printable offer you can use in your own backyard" says Joe Crescenzi.
###